Inflation remains relatively tame, as prices edged only fractionally higher in January.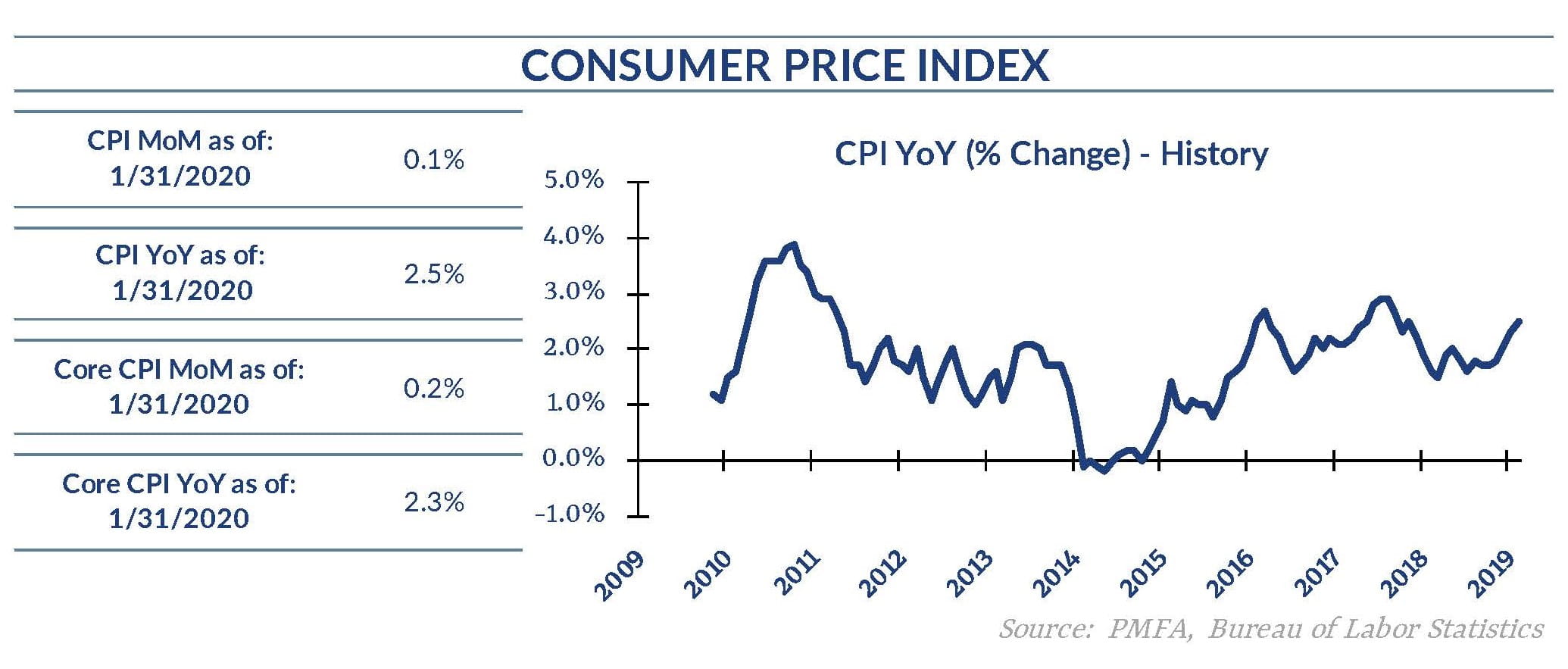 The consumer price index (CPI) increased 0.1% in January from the month prior, modestly less than expectations for a 0.2% increase. Excluding the usually more volatile food and energy prices, core prices rose by 0.2%.
The month-over-month change in prices was tepid, and certainly not cause for concern. Still, the year-on-year increase was more noteworthy at 2.5%. Contrast that with a year ago, with the Consumer Price Index rising by 1.6%, nearly a full point lower. That's a meaningful increase over that period, with most of the uptick showing up since November.
The big driver in the increase in inflation gauges lies squarely in energy prices, which increased by 6.2% over the past twelve months. Even so, oil prices remain relatively low, a byproduct of increased domestic production and slower growth in global demand.
Broadly speaking, recent data still points to an economy that appears to have found its footing after last year's growth scare. Initial jobless claims remained near half-century lows last week at just 205,000, up only modestly from the preceding week.
Job market strength continues to pull people back into the labor force, even though wage growth has shown little evidence of picking up. Adjusted for inflation, average hourly earnings rose by a mere 0.1% last month.
The fact that tight labor markets aren't seemingly forcing employers to aggressively raise wages to find or retain workers is a bit of a conundrum, but does give the Fed some additional leeway to hold the line on interest rates. The bar to raise rates still appears quite high, and a fourth consecutive month of core inflation holding steady at 2.3% isn't enough for policymakers to blink, even with unemployment so low.
The bottom line is that there's nothing in today's report to meaningfully move the needle on the outlook for the economy or rate policy. The stabilization in growth late last year provides reassurance in the expansion being sustained; sticky prices that remain within the Fed's comfort zone should also dispel any concerns about the need for policymakers to nudge interest rates higher. That's not a bad place for the economy to be at this stage of the cycle.