Central banks globally reversed course in 2019, cutting rates as recession fears mounted. That policy about-face bodes well for the economy and equities.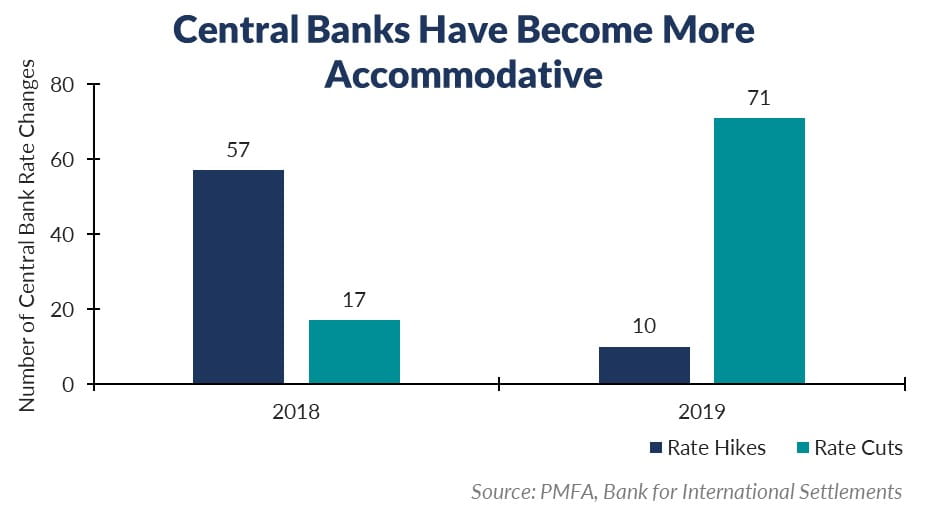 In addition to being an exceptionally strong year for capital markets, 2019 was marked by an abrupt change in monetary policy from many of the world's major central banks. As shown above, central banks had been generally tightening across the globe in 2018, with roughly three times as many rate hikes as rate cuts. However, concerns around slowing economic growth (exacerbated by the U.S.-China trade standoff) caused a sharp reversal last year, with most central banks shifting toward easier monetary policy.

In addition to cutting rates starting last August, the Federal Reserve has been providing additional liquidity since September. The Chinese central bank had also taken steps toward easing, but took further steps in recent days. Notably, the Peoples Bank of China announced on Monday that it was injecting about $174 billion into financial markets to insure the availability of cash in the banking system in response to the coronavirus outbreak and its economic impact.

As we discuss in our accompanying piece, disease outbreaks can create uncertainty that leads to market volatility in the short term, but the effects are generally short-lived. Growth in the affected region tends to revert back to trend within a few quarters, with equity markets responding more rapidly. Meanwhile, the accommodative global backdrop should provide a solid underpinning to economic growth, and positive spillover effects are becoming apparent, particularly in the United States, which has regathered a bit of steam. A viral outbreak that, at least for now, has been largely contained to China remains a source of risk, but one that shouldn't be overstated. Investors would be wise to look through the current volatility and stay focused on their long-term plan.