Retail results were a bit of a disappointment in January, as consumers held their wallets tightly.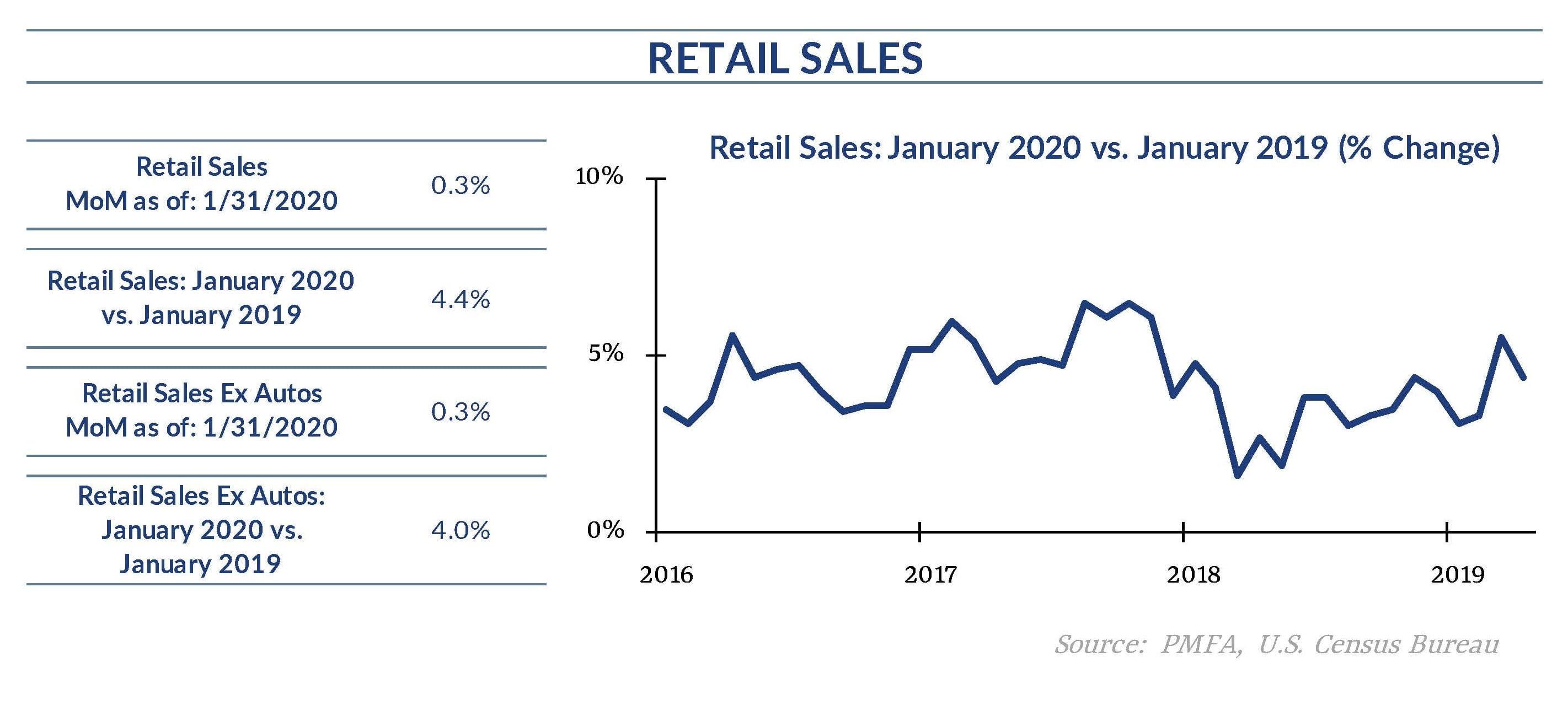 Headline retail sales increased by 0.3% in January, in line with expectations. Underlying data was mixed though, as control group sales were unchanged for the month. That specific reading is generally viewed as the best gauge of underlying trends in spending and is a better indication of the personal consumption component of the GDP report.
Core retail sales, excluding auto and gasoline sales, increased by 0.4%. Falling gasoline prices weighed on station receipts, while automobile sales growth moderated to just 0.2% for the month.
Of particular note was the sharp decline in clothing sales, which dropped 3.1% in January – the largest monthly decline since March 2009. That is bad news for traditional bricks-and-mortar apparel retailers, which have already been feeling the pinch of changing consumer spending habits.
Slowing retail sales are a somewhat concerning sign given the importance of the consumer sector to the overall economy. It's also somewhat surprising given the strength of the labor market – a key underpinning to consumer sentiment and spending. Still, the initial report on Q4 GDP illustrated that personal consumption growth slowed late last year, and that trend appears to be extending into 2020.
Broadly speaking, household financial conditions remain generally constructive. Low interest rates have helped to keep debt service in check even as household income has grown. Additionally, savings rates have been strong in recent years, and remain elevated at 7.6% in December.
Underpinning it all is a strong labor market, although low unemployment hasn't translated to a meaningful improvement in otherwise lackluster wage gains in recent years. Still, gauges of the consumer mood remain upbeat. Against that backdrop, it's somewhat surprising that spending growth has faltered.
The bottom line: a broad array of data still points to an economy that is growing at a moderate pace. Today's retail report doesn't change that, but does reinforce that recent weakness in consumer spending hasn't abated.