Employment conditions remain an exceptionally bright spot for the economy. Adding 225,000 jobs in January at this point in the cycle and with unemployment this low? That's a win.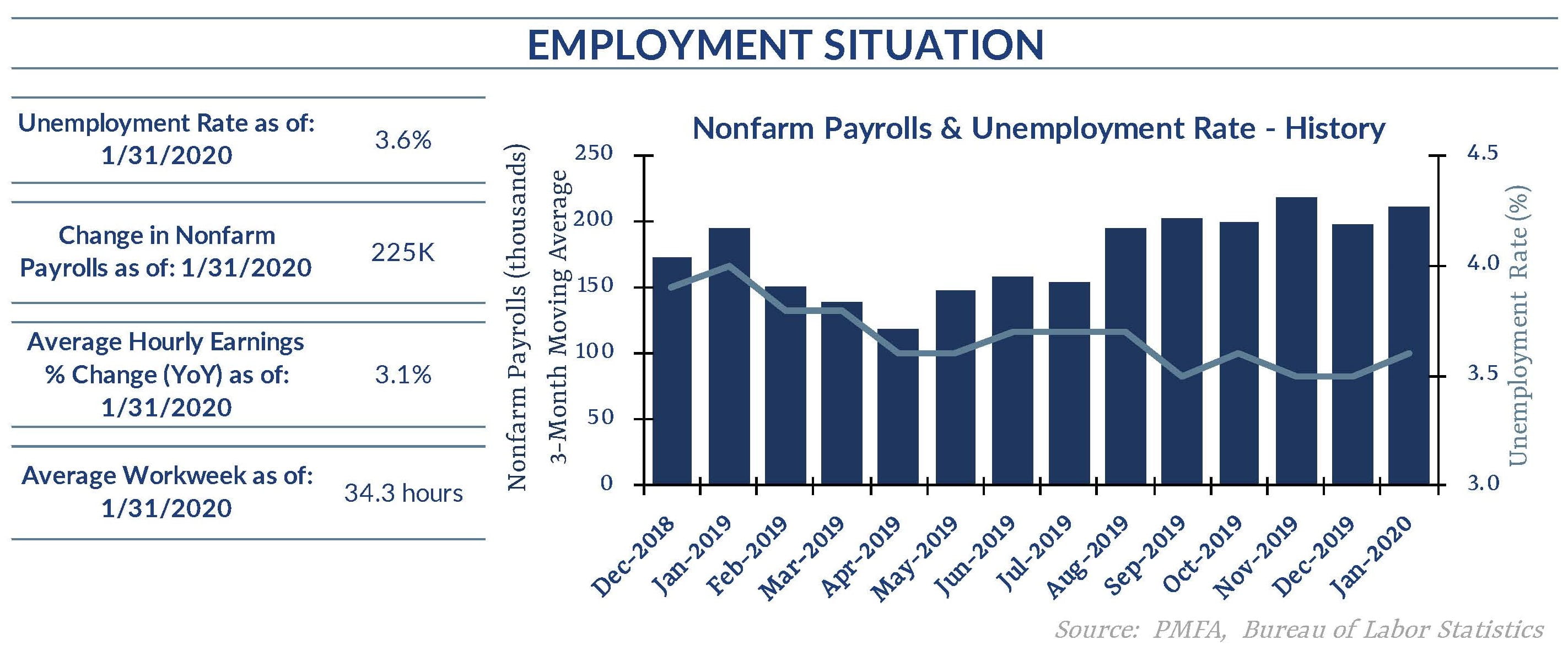 Labor market conditions didn't miss a beat in January, kicking off 2020 on a very positive note. Job creation accelerated in January as employers added 225,000 new jobs to national payrolls. That tally easily exceeded expectations for 160,000-175,000 new jobs. Revisions to the preceding two months added another 7,000 jobs to fourth quarter gains.
Despite another robust month for job creation, the unemployment rate edged higher to 3.6%. That uptick reflects a 0.2% increase in the labor force participation rate, which estimates the percentage of the population actually in the labor force.
Even so, the report also marks a nearly two-year streak that the unemployment rate has been at or below 4%, dating back to March 2018. The jobless rate remains near a half-century low, consistent with a strong labor market that shows surprisingly little sign of slippage.
The news clearly remains good for those seeking employment, although employers feel the opposite side of tight labor conditions. As the pool of unemployed workers has dwindled in recent years, finding qualified candidates to fill open positions has become a more difficult task. Growth in the labor force from those previously not seeking work is certainly helping to replenish that pool.
Average hourly earnings increased by more than 0.2% in January and have risen by 3.1% over the past year. The fact that wage growth hasn't accelerated further with unemployment so low for so long is somewhat surprising. Still, with inflation as low as it has been, real (inflation-adjusted) wage growth looks reasonably good. Should inflation remain contained, wage growth even in this range should support growth in consumer spending, which far and away remains the primary engine for the economy.
The bottom line is that the jobs market continues to hum along, supporting a critical driver of U.S. economic growth – the consumer. Coupled with growing evidence that the economy is re-accelerating and that recession risks have subsided for now, strong job market conditions should continue to provide a solid foundation for consumer sentiment, household spending, and the economy as a whole.