While outbreaks such as the current one can cause market volatility in the short term, markets have tended to bounce back quickly in other recent instances.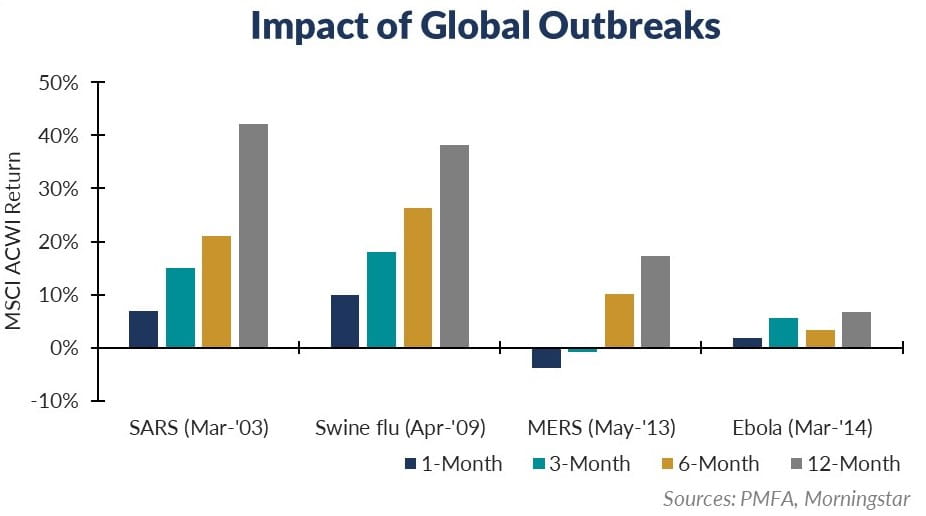 The rapid spread of the coronavirus in China (with cases now surpassing 28,000) and the resulting containment efforts will undoubtedly have a near-term negative effect on the Chinese economy. The degree of impact will depend on the duration and severity of the outbreak and the scope of the response needed to try to contain it. Early estimates suggest that the Chinese economy may slow to well below 6% in 2020 due to the outbreak, while a more muted impact is expected in the United States. However, with the number of cases still growing, it's too soon to definitively say.

More pronounced than the economic impact is the potential effect on investor sentiment. Volatility increased in the past week, but the initial negative reaction has given way to stability and a bit of a rally. Upon its reopening earlier this week, Chinese equities sold off sharply (down over 7% on Monday) before rebounding in recent days. The impact on other markets has been more muted. U.S. equities in particular have bounced back solidly; the Dow Jones Industrial Index gained over 1000 points in a three-day span this week and has returned to its mid-January range.

In other outbreaks of a similar nature over the past twenty years, the story has been similar. Fear, uncertainty, and market volatility have tended to fade in a matter of days or weeks, giving way to solid rebounds within three to six months. Oftentimes, the directionality of markets around such events appear to be far more influenced by other factors (such as SARS and the swine flu occurring near economic troughs), than an apparent response to the contagious outbreak. Each time is different, but investors would be wise to avoid trading on the fear of "what ifs." More often than not, the outcome hasn't been as bad as feared.