Investors understand "buy low, sell high" but mutual fund flows show that investors don't always follow that advice.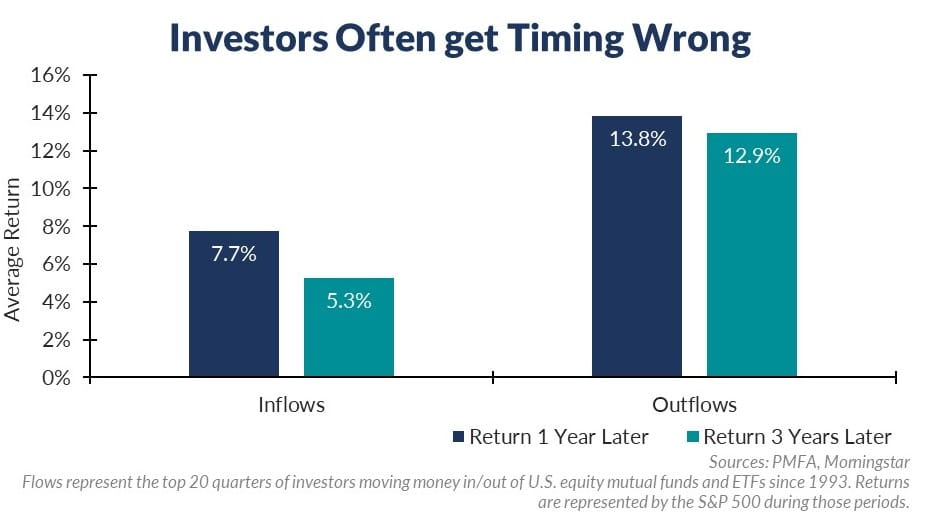 In recent weeks, headlines have been nearly universally negative, focused on the global COVID-19 pandemic, the rapid growth of cases in the United States, and the growing human health toll. In response, the combination of voluntary changes in behavior and formal steps taken by governmental authorities, educational institutions, and the business sector have also meaningfully impacted the near-term outlook for the economy and capital markets.
That leaves investors with one specific question: what should I do? Every investor has to make those decisions based on their specific liquidity needs, risk tolerance, goals, and objectives. Still, we believe that data related to fund flows and subsequent market performance tells a clear, compelling story. Investors tend to put more money into stocks after the market has performed well, while pulling money out of stocks when performance has suffered. The result? Returns in the one- and three-year periods following significant outflows out of equities tend to be very strong — much better than returns following periods of the strongest inflows.
It can be difficult to embrace risk when volatility is high; the hardest time to invest in stocks can also be the best time to do so … to be a buyer when more investors are selling.