Continued deterioration in market conditions and volatility can be unsettling, but we believe that it's a time for prudence and perspective, not panic. Read the full commentary.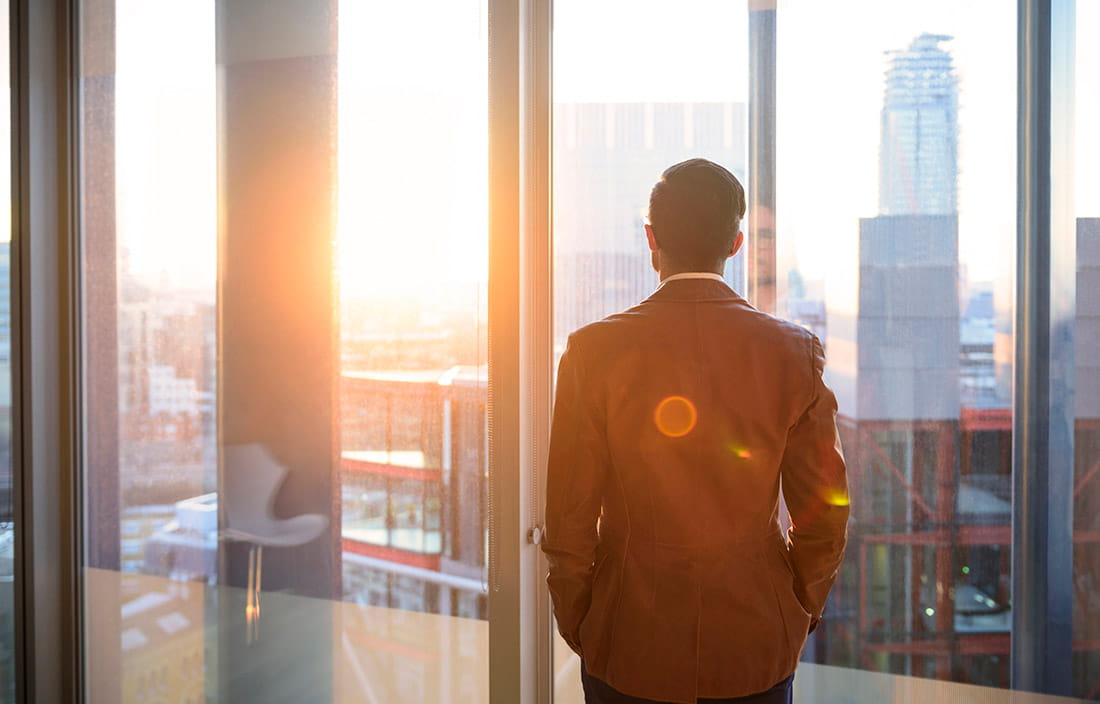 Sweeping cancellations in the wake of COVID-19
The speed of developments has accelerated in recent days as the World Health Organization formally announced that the global coronavirus outbreak had reached the point that it was appropriately characterized as a pandemic, reflecting the degree to which it has spread globally. In response, we're also seeing sweeping cancellations of a variety of events, increased closure of schools and businesses, and an expansion of travel restrictions.
Clearly, these developments may be disturbing given their scope, scale, and impact on everyday life, even if they may be viewed as justifiable under the circumstances. In a time of uncertainty, those in a position to make decisions have to do so with incomplete information and, frankly, no ability to reliably predict what the actual impact of the spread of the virus will be. Far and away, the primary concern at this point is the health and welfare of the individuals in the impacted regions. Increasingly, we're seeing that here at home.
Our view
We would note that we aren't immune to these concerns. We see and hear the same debates about how significant the risk actually is, whether the policy responses and decisions made across the public and private sector have been insufficient, whether they have been excessively reactionary or alarmist, or whether they have been balanced and prudent. The fact of the matter is that only with hindsight will we be able to begin to assess the need for and effectiveness of any number of decisions that are being made.
All of this speaks directly to the difficulty in gauging what the economic cost will be, or how long or how much that it will contribute to continued market volatility. Unfortunately, the inability to determine the ultimate cost in terms of human health and welfare limits the value of any economic forecast.
Focusing our efforts
Instead of focusing on what cannot be known, we have concentrated our efforts on what we can do. That has taken us down a number of paths focused on portfolio strategy and implementation. In recent days and weeks, we have been in communication with dozens of money managers that are responsible for investing capital on behalf of our clients. While each has a distinct investment style and unique criteria for decision-making, there have been some consistent themes that have emerged from those discussions. Specifically:
A degree of humility — none are trying to predict what's going to happen in the markets tomorrow, next week, or over the next month.
A watchful eye — all are closely monitoring rapidly evolving market conditions and developments related to their portfolio holdings.
Identification of opportunities — all are citing relative value opportunities that are being created in fundamentally attractive businesses (in the case of stocks) or securities (in the case of bonds) as a result of this volatile period.
Portfolio adjustments — many have been engaged in activities to reposition their portfolios to varying degrees, often in the form of taking advantage of price dislocations to initiate or increase investment in high-quality securities at increasingly attractive prices.
Patience — Despite the attractive opportunities that they are identifying, they aren't diving in with both feet. They're being thoughtful in carefully analyzing these emerging investment opportunities and evaluating how and when to take action.
We share this in part so you know that although you may not see allocation changes to specific managers at this juncture, there is still significant activity and changes taking place within your portfolio that may not otherwise be readily apparent. Additionally, we're carefully evaluating market dynamics and conditions, while weighing carefully the changes that are being made by the money managers represented in your portfolio. We are doing so with a similarly watchful eye and patient approach exhibited by those managers.
Finally, we're actively engaged in analyzing individual client portfolios to evaluate the need to rebalance and to engage in tax-advantageous sales or swaps where appropriate.
Current market conditions, volatility, and looking forward
We acknowledge that the continued deterioration in market conditions and volatility can be unsettling, even as broader developments related to nonfinancial considerations are as well. We believe that it's a time for prudence and perspective, not panic. Even in the last week, while we've seen a number of difficult days for the market, some have been followed by sharp rebounds the following day. History illustrates that periods of outsized equity market declines are almost always followed by strong returns. More often than not, the return in the 12 months following a market swoon has been larger than decline. That may not reduce the frustration or anxiety that market volatility creates but can help to provide a reminder of the other side of volatility and reassurance in the future.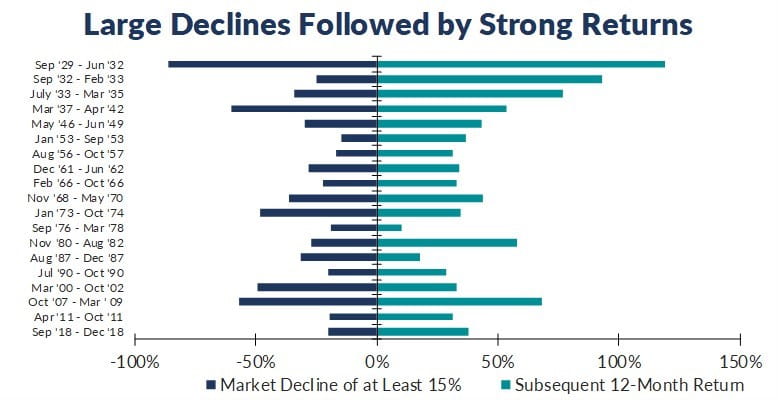 Source: PMFA, Morningstar
As stated in our recent correspondence, we cannot — and will not attempt to — predict the near-term path for the economy or capital markets. What we do know is that, regardless of the current uncertainty, the fundamental underpinnings of sound investing haven't changed. This isn't the first period of volatility for investors, and it won't be the last. It's easy to say, "This time is different." In a certain sense, every time is different, as the facts and circumstances change. Still, the broad way in which cycles unfold is similar. It's impossible to assign a timetable to unpredictable market events, but we maintain strong conviction in the long-term durability of the capital markets, the strength of prudent, disciplined financial planning, and the wisdom of not losing sight of the long term. We strongly believe that the principles that have allowed investors to successfully navigate prior periods of heightened risk and uncertainty will do so again.
We Care.
While we maintain a watchful eye on the markets broadly and your portfolios individually, we're also exceptionally mindful of the larger picture. Plante Moran's culture is at the center of all we do and is perhaps best exemplified by a simple phrase that appears on golden rulers that are given to every member of the Plante Moran team when they join the firm. "We Care." We care about our clients, we care about our staff, and we care about our communities.
Even as we write this, developments are moving quickly — not only in financial markets, but in many ways that are likely to impact day-to-day life for Americans in the days ahead. We're taking appropriate steps to safeguard the health of the members of the Plante Moran team, while also ensuring that we'll be well positioned to continue to serve each of you. We're continuing to closely monitor developments and will take whatever steps may be needed in the coming days. We will continue to keep you apprised of those steps.
If you have any questions or concerns, please reach out to your PMFA advisor.