The rapid implementation of policies to attempt to slow the spread of the virus has led to a notable slowdown in economic activity, further exacerbating market volatility. What does this mean for investors? Read the full commentary.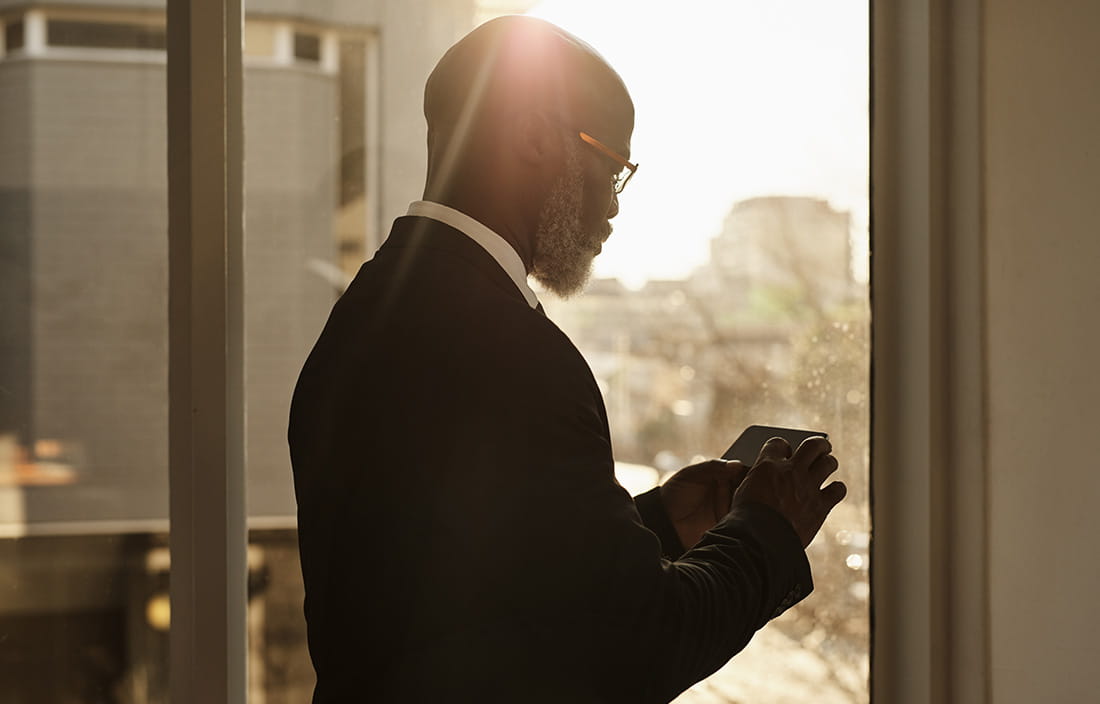 News is evolving quickly as the world is attempting to absorb and respond to the continuing evolution of the COVID-19 pandemic. Since this outbreak was first declared a public health emergency on January 30, each of our lives has been impacted by changes that are taking place. Public and private containment efforts have been significant, focused on reducing the most important risk factor of this current crisis: the potential human toll.

Clearly, that risk is first and foremost. However, the social distancing efforts to slow the virus's spread have led to a rapid slowdown across the economy, as universities, schools, travel and events, retailers, restaurants, and offices across the country are temporarily suspended, canceled, or closed. Furthermore, Sunday's guidance issued by the Center for Disease Control, which recommended the cancellation of any event of over 50 people for an eight-week period, has raised further questions around the potential length of time such aggressive measures may be in place. Beyond the extent of the disruption to everyday life, the potential economic toll of these aggressive measures is becoming more apparent. At this point, a technical recession — even if quite brief by cyclical measures — appears increasingly likely, if not inevitable.
The Fed unloads; fiscal response pending
In acknowledgment of the economic spillover effects of this crisis, policymakers have responded aggressively in recent days. On Friday, President Trump declared a national emergency. In doing so, he communicated an intention to commit up to $50 billion of fiscal stimulus to combat the economic fallout created by the virus, pledging to "unleash the full power of the federal government."
On Sunday, the Federal Reserve announced a rate cut and reinitiated its bond-buying program, while noting that members of the central bank's policy-setting committee expect a "significant effect" on the economy in the coming months. Another cut was expected, but its timing and size were somewhat surprising with its policy meeting scheduled for later this week. The Fed trimmed its short-term policy rate by 100 basis points (1.0%) to a range of 0% to 0.25%, delivering the largest one-time cut in decades. Additionally, the Fed announced the commitment of $700 billion of security purchases to provide additional market liquidity and improve bond-market functioning ($500 billion in Treasuries and up to $200 billion in mortgage-backed securities, or MBS). The third piece of the Fed's arsenal (forward guidance) was adjusted to indicate that rates are expected to remain low for some time and an intent to utilize other tools and programs to support liquidity and credit markets.
Despite the aggressiveness of these actions, Fed Chair Jerome Powell acknowledged the limits of monetary policy in a conference call on Sunday night, noting that these steps were intended to help reduce stress and improve functioning in the Treasury and MBS market. He specifically noted that effective health and fiscal policy responses would be critical elements of a coordinated policy response.
The Federal Reserve's forceful actions haven't yet been met by a definitive fiscal response, but discussions within Congress and with the Trump administration are active and focused on the scope of the relief and methods of delivery. We believe that an effective, meaningful fiscal response will be a crucial step to mitigate the immediate economic impact on many businesses. We believe that it will also extend to workers that are already being idled or laid off as a result of the aggressive responses officially mandated by the federal and state governments and in response to changes in consumer spending behavior.
The greatest unknown is the effectiveness of the efforts to slow the spread of the virus and the ability of our healthcare system to manage that risk and provide effective treatment — put differently, it's the human cost. On that, we watch, we read, and we listen just as you all are as well.
Acknowledging these factors, economists generally anticipate a solid rebound in the second half of this year. As we've noted on many occasions, the U.S. economy was on a solid footing and actually on the upswing before these developments. There didn't appear to be a massive imbalance that had built up — the kind that often would act as the catalyst for a recession. Of course, that doesn't make the rapid slowdown that's underway any less painful, but it does suggest that when the shock to the system subsides and passes, the economy should be well-positioned to emerge on a solid footing, with the potential for some pent-up demand, providing a solid lift to spending in the coming quarters.
While the timing remains an unanswerable question, we're assured that on the other side of this outbreak, demand will rebound, economic growth will resume, and capitalism will still be alive. Just as the market reacted sharply to the sudden slowdown in the economy, we believe the market's recovery will be similarly powerful. The question, as always, is one of timing.
The knowns
We know the number of unknowns today remains unsettling. The rapid flow of news may stoke emotions that create a sense of urgency to want to react — to do something. At times like these, we believe it's critical for investors to maintain a long-term perspective, look through the volatility and the unknowns, and instead focus on the knowns.
Reaffirm one's long-term investment plan – A disciplined investment approach can serve as a roadmap for decision-making. A well-conceived plan accounts for periods of volatility, to ensure a high probability of success in anticipation of rocky paths. We're actively looking for appropriate opportunities to rebalance portfolios, harvest tax losses, identify potential opportunities that market volatility will inevitably create, and carefully consider reasonable points to adjust portfolio allocations in response.
Remain diversified – Diversification is a critical component of any financial plan and investment strategy, but it's never more important than when uncertainty is high. Being adequately diversified across asset classes, sectors, and securities materially reduces a portfolio's volatility. While risk and its negative effects can't be eliminated, they can be meaningfully reduced.

What can be too easily overlooked is the beneficial effects of diversification during the recovery phase as well. A diversified portfolio provides a cushion on the downside, positioning the portfolio to recover more rapidly when conditions return to normal. As illustrated below, even following the 2008 Great Recession/Global Financial Crisis, a balanced portfolio split evenly between bonds and global equities recovered in just over one year.

Of course, every market cycle is different, but the severity of the global financial crisis and the accompanying bear market illustrates the point clearly. Diversification and rebalancing work.
Market timing is a losing strategy – As we noted earlier, among the numerous questions that can't be answered today are those surrounding timing. When will the federal government arrive with fiscal relief? When will the viral outbreak peak and begin to subside? How long will the economy be negatively impacted by the massive change in consumer behavior? And, of course, when will the market find a bottom?

Neither we nor anyone else knows those answers. Still, we can say with certainty that knowing the answers isn't critical to navigating the storm. Acknowledging that it's impossible to reliably predict the direction of markets, we will base our decisions not on speculation but on the knowns, and we would urge you to do the same. Selling out at the wrong time and going to cash can significantly impair a portfolio's ability to recover from losses. Referencing the chart above, if the balanced portfolio was converted to an all bond portfolio when market conditions were at their most dire, the recovery process was extended to more than seven years versus just one year for a portfolio that was maintained.

Furthermore, the chart below illustrates the point in a different way by focusing on the flow of funds. Future equity market returns tend to be much stronger in the one- and three-year periods following periods of equity outflows (when investors are selling stocks) than during periods of inflows. That's precisely what we see today. While prices are falling, future returns are increasing. Again, we believe this clearly illustrates the benefit of maintaining one's allocation to equities and rebalancing as there is a need to do so.
We also recognize that every investor has different goals and needs. Underpinning all of this is the need to hold adequate cash reserves to provide for your near-term needs and to allow the long-term portfolio time to stabilize and recover. That threshold is different for every investor but may necessitate a cash reserve sufficient to cover a minimum of six months of cash needs or more. During uncertain periods, in particular, holding a larger cash reserve can provide that additional confidence that one's near-term needs aren't at risk. That, in turn, can provide the backstop needed for the long-term portfolio to remain invested in a manner consistent with one's investment policy, reflecting the investment time horizon, risk and return parameters, and goals that were established when conditions were calmer.
Our commitment to you
We're committed to serving you and take our role as your investment advisor with the highest sense of responsibility and care. We're closely watching global events as they evolve and will continue to provide updates on our views, thinking, or any portfolio changes that may result from the risks or opportunities we identify. As we outlined in our recent commentary on March 12, our recommended money managers are also actively identifying opportunities and adjusting their portfolios in a careful, calculated manner to take advantage of price dislocations and improving forward-looking opportunities that are being created in this rapidly changing landscape.
As we close, for now, we remain mindful of the things that matter most to all of us. We remain focused on acting as your trusted advisor, and our thoughts are with each of you as we navigate this together. We wish you and your family good health.
As always, please contact your PMFA advisor with any questions or concerns.