Employers continue to trim payrolls in response to the sharp deterioration in economic conditions.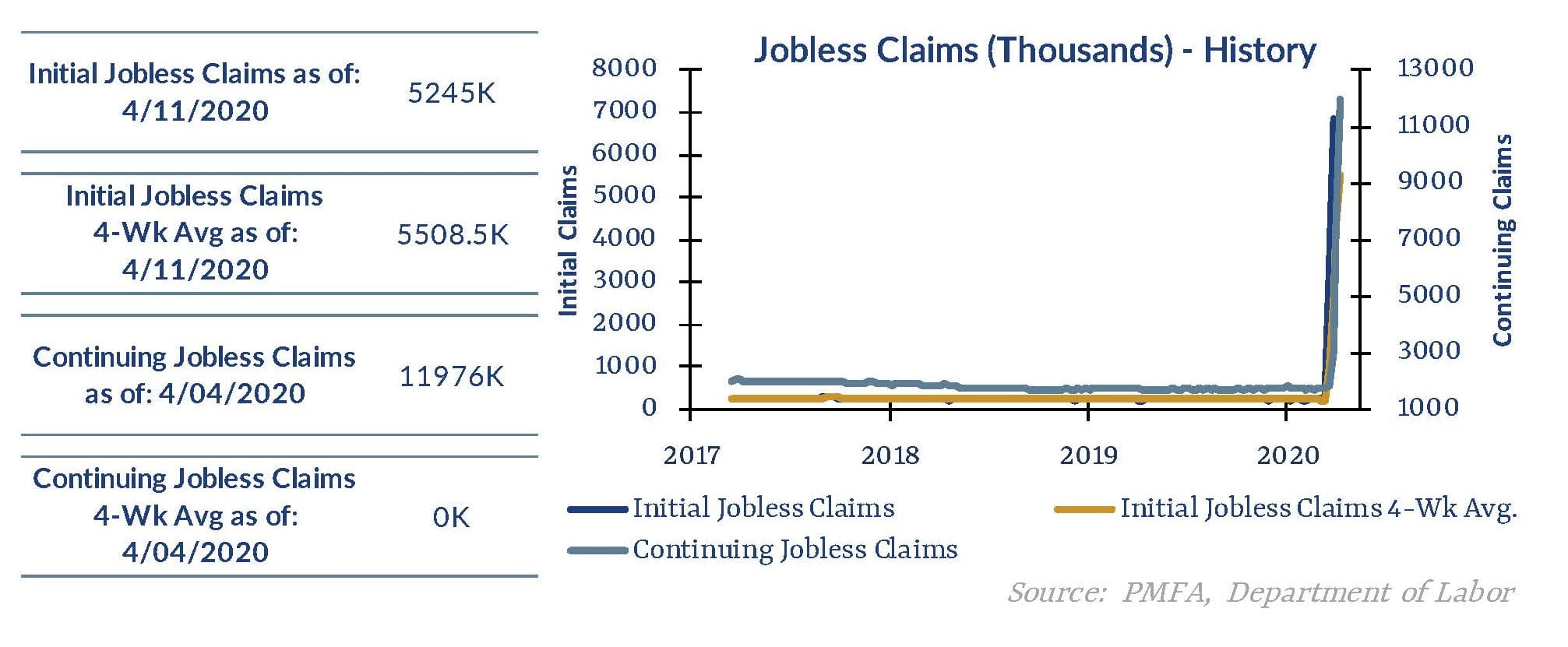 Employers continue to rapidly trim their workforce in response to the sharp deterioration in economic conditions resulting from the aggressive measures taken to slow the spread of the COVID-19.
Initial claims for Americans applying for first-time unemployment insurance topped 5.2 million again last week. Still, the fact that they were much lower than last week's 6.6 million or were less than economist forecasts offers little comfort. It's possible that weekly claims have peaked and could continue to slowly recede, but even these somewhat lower weekly tallies are massive by historical standards.
A month into the crisis, over 22 million Americans have filed for jobless benefits, a staggering number that was inconceivable just a few months ago. Looking forward, there's no question that there will be more to come. Claims are expected to remain elevated in the coming weeks as some states have only recently issued stay-at-home orders. Additionally, more claims will likely come through for those that faced hitches in their attempts to file for benefits.
The April unemployment rate is set to rise well above the 10.0% peak seen in the last recession. The speed with which the economy deteriorated is without modern precedent — a fact that is being clearly illustrated across a wide swathe of data, including labor market indicators.
At this point, it's impossible to determine whether initial claims have crested, but it's possible that is the case. A great deal will hinge on how quickly existing restrictions can be lifted, allowing people to begin to return to some semblance of pre-crisis day-to-day life. Even then, it's not going to be as easy as making an announcement and expecting a return to normal.
There will be scar tissue for the economy, and it will take some time for Americans to return to travel, to shopping, and to their former habits. Employment conditions will heal, but that healing process is going to take years, not months, just as is always the case coming out of a recession.
Of course, the massive fiscal and monetary stimulus efforts will help to alleviate the damage. Right now, the focus must be on what will be needed to stabilize the economy and provide relief. In time, the focus can turn to recovery.
Media mentions
Our experts were recently quoted on this topic in the following publication: