Manufacturing activity dropped sharply in April, as new orders and production plunged and manufacturers slashed payrolls.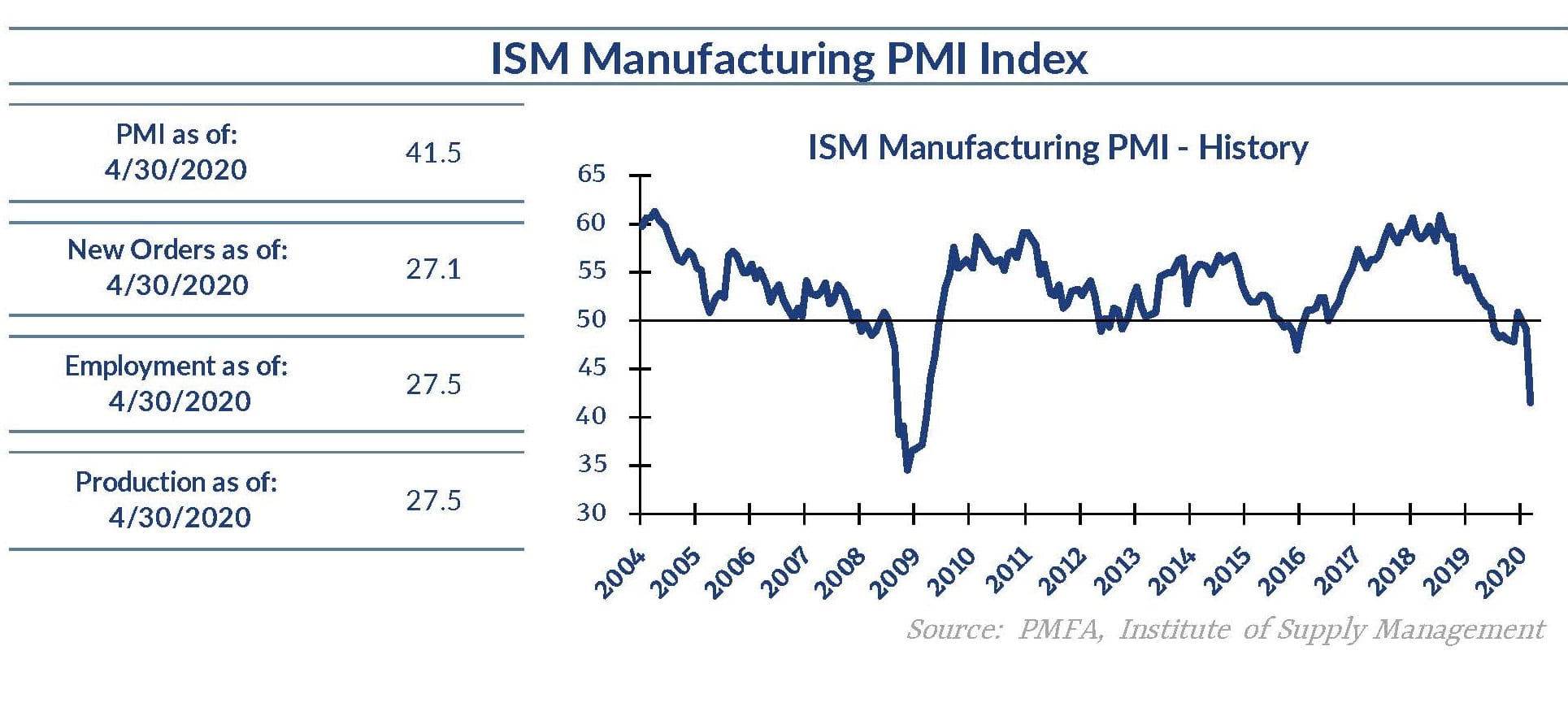 The ISM Manufacturing Index declined sharply in April, falling 7.6 points to 41.5 after 131 consecutive months of expansion. As negative as that result was, the index actually held up meaningfully better than economists had anticipated, with the consensus forecast calling for a decline to around 37.0 – 39.0.
Given the speed and magnitude of the dropoff in the economy broadly, forecasts have been unusually wide for April data. The range of estimates for the manufacturing index was exceptionally broad, from 30.0 – 45.0. The actual result, while a stark acknowledgement of the rapid decline in activity, was not as bad as expected.
Even so, some of the most critical underlying pieces of the report were resoundingly poor. New orders, production, and employment were all particularly weak, which doesn't bode well for the near-term outlook.
Supplier deliveries slowed considerably, which often correlates with strong demand and positive economic conditions. Clearly, that is not the case today, reflecting instead the shortage of supply in certain products as supply chains are challenged.
Given the shelter-in-place orders in existence across much of the country for the course of the month, April's notable decline in manufacturing activity is not surprising. Manufacturers aggressively cut production and payrolls as new orders have dried up. Order backlog helped to extend production for a brief time, but the sharp decline in both consumer and business demand for a range of non-essential products has impacted those producers.
Looking ahead, many states have begun to put plans in place to slowly reopen their economies in anticipation of a potential peak in the spread of the COVID-19. This could be a positive development for the economy if conditions stabilize, businesses begin to re-open, and individuals are able to begin to return to work.
The economy came to a screeching halt abruptly, but the return to pre-pandemic norms will not mirror that. It will take some time for the economy to re-open for business, driven by regional policy differences, slower adjustment in consumer behavior, and the psychological hurdles created by the ongoing health risk. The road back to a more normal environment will undoubtably be an extended one.
It is still too early to conclude that the economy has reached a turning point. The most important unanswered questions focus on the ongoing health threat. Until greater clarity can be achieved in terms of treatment and prevention, any steps taken to return to normalcy may be met with a mix of relief and cautious optimism, but not with an immediate return to pre-pandemic activities and lifestyles.
From both an economic and non-economic perspective, a return to "normal" will be gradual. The hope is that we can start that process sooner rather than later, while acknowledging that there will be additional challenges ahead.