Manufacturing activity slowed in March, but the greater impact of the economic slowdown will be seen in April.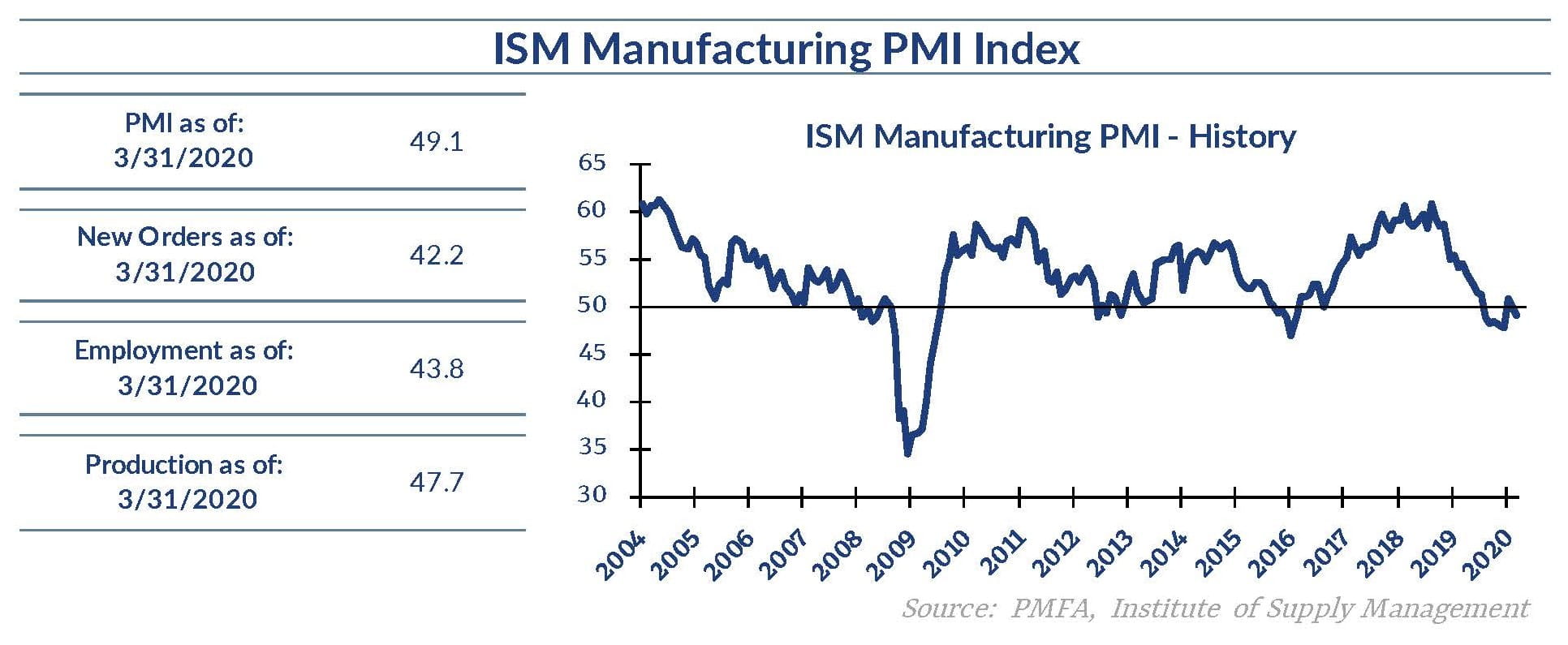 The ISM Manufacturing Index declined modestly in March to 49.1, while holding up much better than widely expected. The sector fell back into contractionary territory after two months of modestly expansionary readings in January and February.
Given the sharp slowdown across much of the economy, a more pronounced decline had been anticipated. It's quite likely that the full impact of the slowdown already underway wasn't reflected in the survey results and weakness in the nation's factories will be clearer in the April data.
New order growth had been effectively flat in February, but fell sharply in March as consumers and businesses alike curtailed spending. The New Orders Index slipped from 49.8 to 42.2 for the month.
Even so, the sector shed workers at a faster pace, as employers adjust to declining demand by trimming payrolls. Initial jobless claims surged to nearly 3.3 million last week, shattering the previous record high week. That illustrated the speed with which the economy went from moderate growth to a screeching halt as a byproduct of the aggressive steps being taken to slow the spread of the COVID-19 virus.
The spread of the virus has accelerated sharply in recent days and both new cases and deaths are expected to increase significantly in the coming weeks. For many service sector businesses, the impact of social distancing and shelter-in-place orders were felt almost overnight. Although the effect on manufacturing activity is also significant, the pace of the slowdown was not as pronounced in March, but is likely to be extended with production being ratcheted back over a somewhat longer period.
As the backlog of orders is worked down and new order growth stalls, manufacturers will continue to reduce production and cut payrolls until the storm passes.
The effects of the COVID-19 pandemic have been a shock to the economy that is without modern precedent. Also without precedent is the speed and aggressiveness with which the federal government and Federal Reserve have responded with targeted actions to support the economy and functioning of financial markets. While those aggressive steps won't allow the economy to avoid a recession, they should help to blunt the impact.
Looking forward, the most critical questions are non-economic: how widespread will the health implications of the coronavirus epidemic be and how long will it last? The answers will be critical to determining the ultimate impact on the economy: the depth of the recession, its length, and the contours of the path to recovery.