Retailers broadly felts the impact of the efforts intended to slow the spread of COVID-19, but across various sectors, there were distinct winners and losers.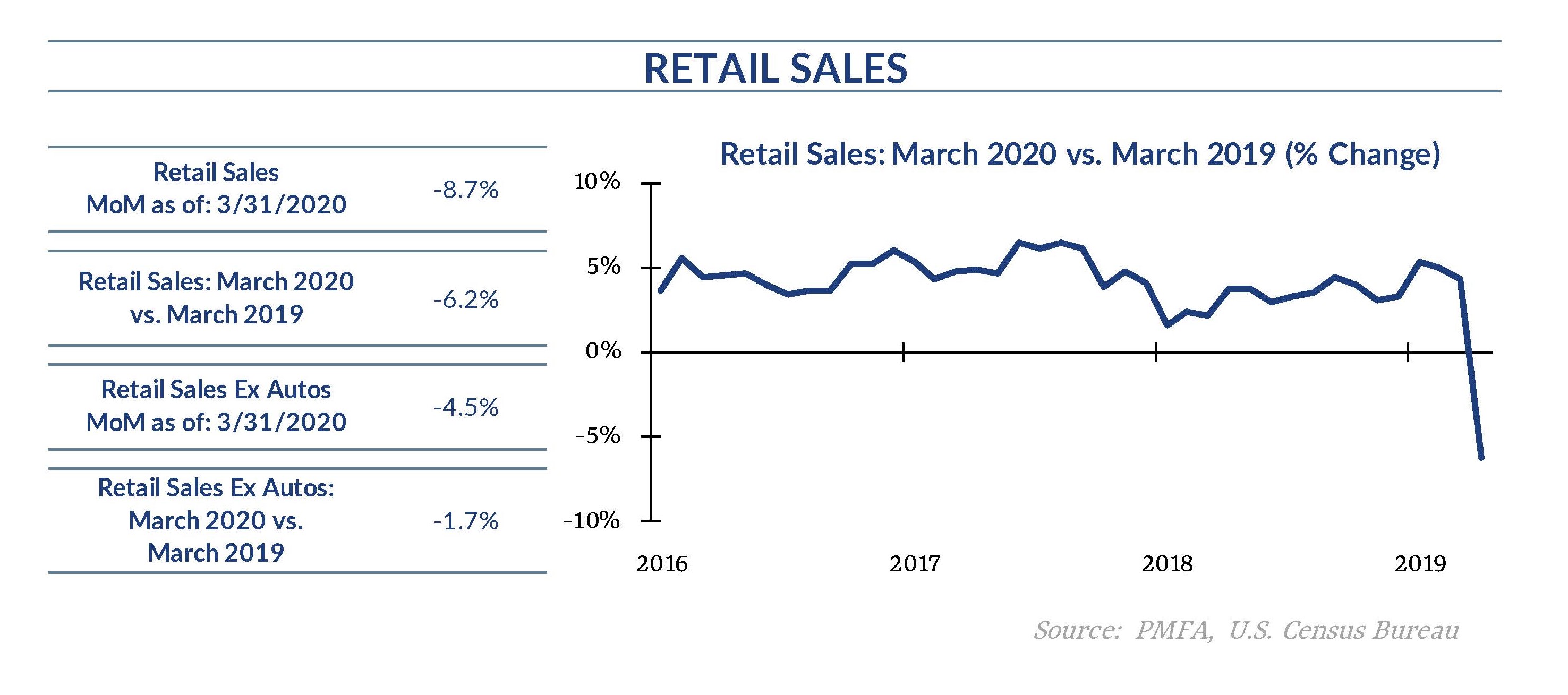 Retailers bore the brunt of the extreme nationwide efforts intended to slow the spread of COVID-19. Even so, the impact was felt disproportionately across various retail sectors, as there were distinct winners and losers.
The report as a whole provides key insights into two major developments: the sharply negative impact of the great "hunkering down" of consumers in the past month, and their changing buying habits. As the magnitude of the health impact of COVID-19 in the U.S. became increasingly apparent and job losses piled up at an unprecedented pace, consumers quickly slashed spending. Moreover, the spending that did occur was much more focused on stockpiling staples – food and personal care items that would be needed to ride out an extended period of unknown duration effectively locked down at home.
Headline retail sales fell by 8.7% in March – a sharp, though not unexpected, decline. The only real winners were grocery stores, who benefited by the frenzied spending by shoppers who stocked up in anticipation of an extended lockdown. The result was often-emptied store shelves and a 26.9% month-over-month increase in sales.
The flip side of the food-and-beverage coin was a comparable 26.5% decline in restaurant sales, as social-distancing efforts shuttered many restaurants mid-month. Those that remained open felt the pain of reduced traffic.
Outside of grocery stores, the story was nearly universally negative. Higher-ticket and non-discretionary sectors were hit especially hard. Auto and furniture sales plummeted more than 25%. Far and away, the greatest impact was felt in apparel retailers, which saw sales drop by more than 50% in March.
Expanded unemployment benefits and stimulus checks from the recently passed CARES act are starting to roll in and may help to encourage spending in the coming weeks. Still, consumer spending behavior will remain restrained for some time. April's sales numbers could easily look even worse than March's results, which didn't really feel the impact of the downturn until the latter half of the month.
The bottom line is that the sharp decline in sales in March was the leading edge of what will undoubtedly be a challenging period for much of the retail sector. There will be winners and losers as households adjust their daily lives to ride out the storm and recalibrate their spending habits accordingly.
Media mentions
Our experts were recently quoted on this topic in the following publications: