By any measure that doesn't involve a direct comparison with the past two months, the magnitude of job losses remains staggering.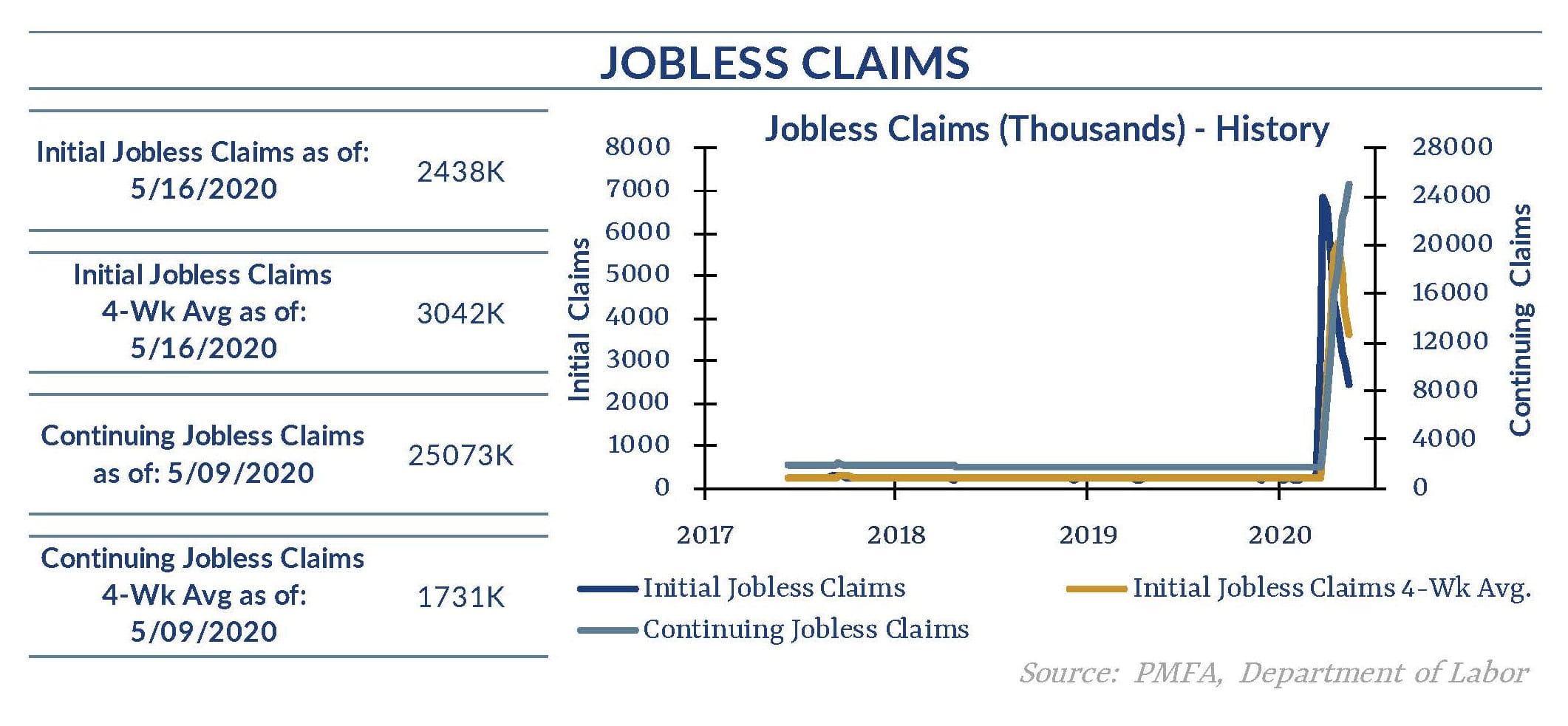 First-time jobless claims dropped by about 250,000 last week, a sizable decline under normal labor market conditions. Even so, at over 2.4 million for the week, the number of newly unemployed in just the past week represented a tenfold increase compared to a year ago.
Today's report adds to the current 38 million Americans that have filed for jobless benefits since mid-March. The rapid deterioration in the labor market pushed the jobless rate to nearly 15% in April, but that rate is certain to rise as job losses have continued to mount in recent weeks. At this point, a 20% national unemployment rate looks likely by the end of May, with a number of states already exceeding that threshold.
In better economic times, the so-called "virtuous cycle" between spending and jobs helps to sustain growth momentum. Today, it's a considerably vicious cycle that has taken hold. The decision to shut down vast segments of the economy in response to the public health risk posed by COVID-19 has sidelined millions of workers across the country. Retailers have felt the impact, with sales down over 16% in April alone.
For many whose income has been lost or reduced, it's not a choice to simply spend less, but a necessity. For others, a sharp reduction in spending is a function of caution or practical limits on activities. Whatever the cause, the consumer sector has undergone an unprecedented, seemingly overnight adjustment in its spending habits. Understandable as it may be, that sharp reduction in spending also directly feeds back into the labor economy, exacerbating job losses.
As parts of the economy are slowly brought back on-line, the pace of deterioration should begin to slow in the coming weeks. A successful, broad-based, lifting of restrictions – even if only partial – could provide a floor under the economy and mark the beginning of a gradual recovery. Still, it remains unclear whether such steps will be successful, and on the impact that increased mobility and reduced social distancing could have on the spread of the virus.
In short, there are still many questions about the path ahead that remain largely unanswered. Certainly, for many the sense of restlessness and a desire to return to some semblance of normal daily activity is placing increasing pressure on government officials to ease restrictions as soon as reasonably possible. Would such actions need to be reversed in response to a surge in new cases? That is a distinct risk, and one that would be another blow to sentiment.
For now, the hope is that the gradual decline in new cases is creating an opening to ease restrictions and begin to reopen segments of the economy for business. For those still employed but increasingly at risk and for those hoping to return to work, that will be a critical step. Even so, the healing process will be gradual and will take time. The crucial development will be some reasonable reassurance that the spread of the virus can be safely contained.