Although consumers' assessment of current economic conditions was more pessimistic, they're more optimistic about the potential for improvement in the months ahead.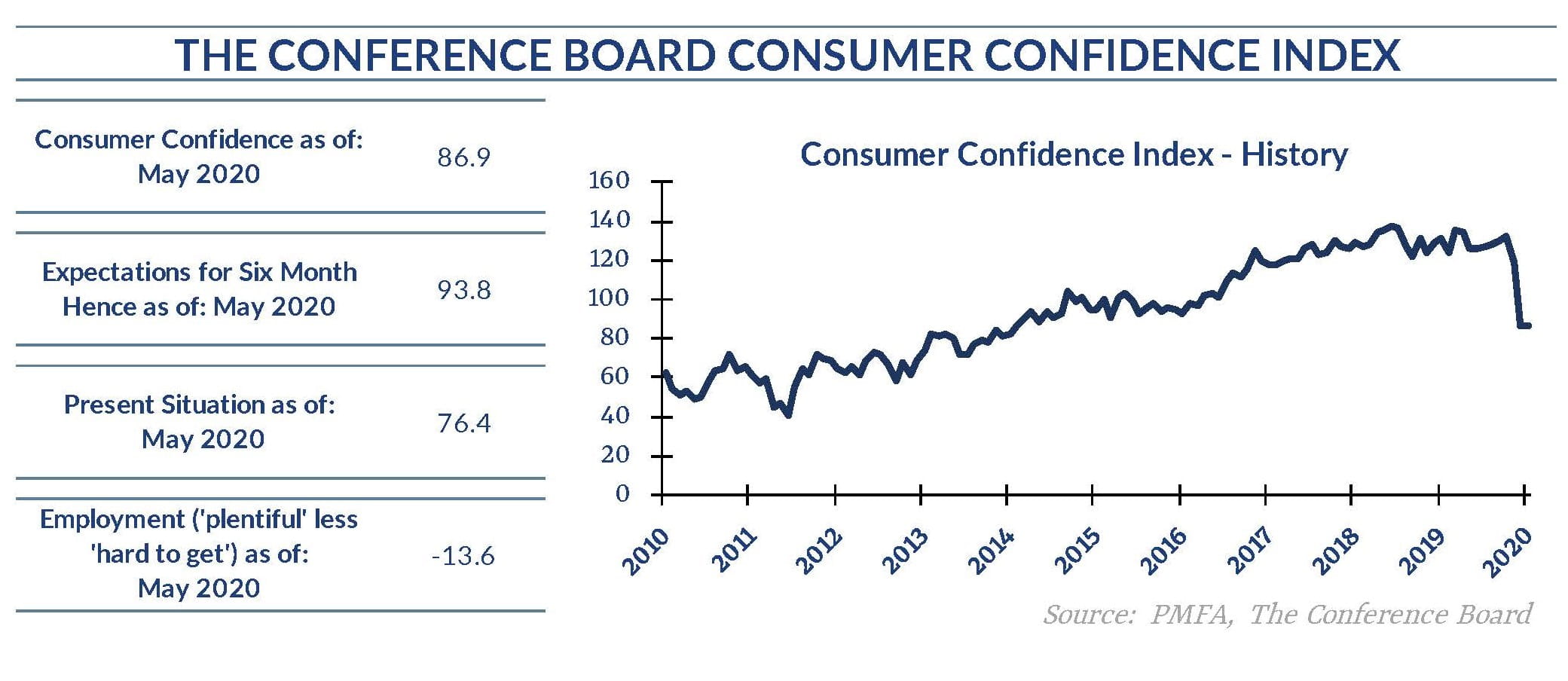 The Conference Board's measure of consumer confidence was little changed in May, suggesting that the sharp deterioration in sentiment in recent months may be easing. The Consumer Confidence Index came in at 86.6 for the month, slightly below expectations, while still modestly better than the 85.7 reading in April.
The moderate improvement in consumer moods was even more apparent in the underlying components of the index. Although their assessment of current economic conditions was more pessimistic, consumers are more optimistic about the potential for improvement in the months ahead.
Coming into 2020, consumers had been quite upbeat and relatively steady in that view even as the trade standoff with China flared and the economy softened in 2019. That changed quickly as the COVID-19 virus established a foothold in the U.S. and aggressive policy actions were enacted across much of the country to slow its spread.
The rapid shutdown of much of the economy in a matter of days hit consumer confidence quite hard, as the index dropped by nearly 50 points in just two months. With the spread of the virus seemingly slowing and restrictions being lifted to varying degrees across the country, there's a growing sense that the economy may be bottoming as well.
A variety of data suggests that consumers are beginning to slowly emerge and stronger spending is expected to follow. Still, two clear headwinds remain. The first is the risk of a second wave of infections as public policies are eased and personal practices are relaxed. The second is the reality that the scars of the past few months will be with us for some time. The speed of the economic descent won't be reversed as quickly as it arrived; it will take some time for the economy to return to pre-recession levels of employment and output.
Assuming the economy is in the process of bottoming, it's likely that job creation will surge and the economy could get a solid bounce in the coming months, which should also provide a lift to sentiment and spending. Even so, most economists expect that it will be well into 2021 or beyond before the economy returns to pre-recessionary form.
Continued good news on public health and virus containment will be critical to the direction of public policy and the economy. Positive news on potential vaccines has helped to boost optimism that a solution may be on the horizon. However, there are still many hurdles to overcome before those potential solutions become reality.
For now, consumers are focused on those hopeful signs, with an emerging sense of renewed optimism that perhaps the worst is in the rearview mirror, even if the path ahead is far from clear.