Opportunistic rebalancing can enhance portfolio performance over time. Investors can miss opportunities by not rebalancing, but it's possible to take it too far.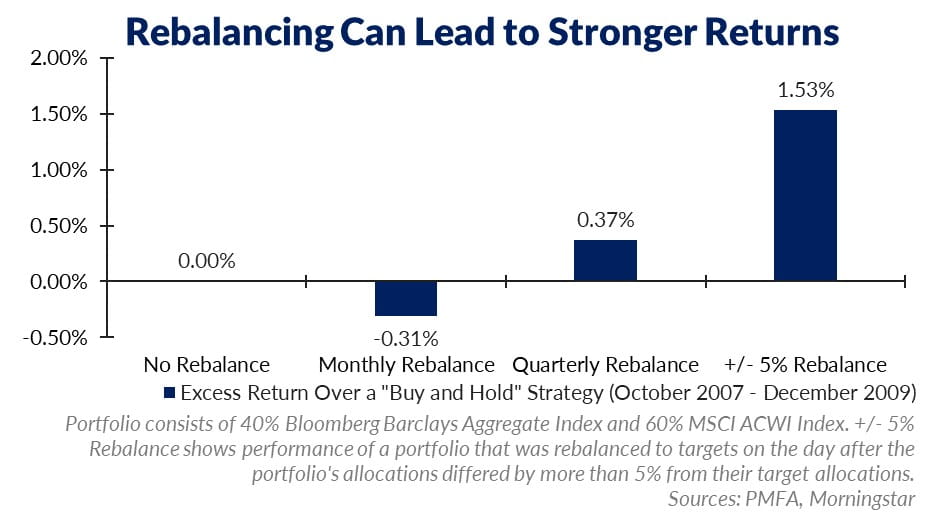 When capital markets turn more volatile, greater swings in asset prices can create both the need and opportunity to rebalance a portfolio consistent with one's investment policy. However, investors may at times be hesitant to do so, fearing that stocks may have further to fall, particularly when the outlook is exceptionally uncertain. Our quantitative analysis of the last major downturn in stocks confirms that rebalancing can enhance portfolio performance, but it should be done judiciously.
Using market indexes, the chart above illustrates the incremental return achieved in a 60% equity/40% fixed-income portfolio using different rebalancing strategies during the period immediately before, through, and after the global financial crisis that ended in 2009. Notably, the frequency of rebalancing mattered, and could actually be detrimental if done too aggressively. Rebalancing when asset-class targets deviated 5% or more from their strategic targets yielded the best result. We would note that this analysis doesn't reflect the impact of taxes or trading costs that should be considered, but still shows the value of rebalancing judiciously.
The lesson here is simple: Investors should rebalance opportunistically to enhance returns over a "buy, hold, and never rebalance" strategy. The other side of the story is also clear: the benefits of rebalancing can be lost if overdone.