While the earnings picture is far from certain, estimates are pricing in a rebound in the second half of 2020.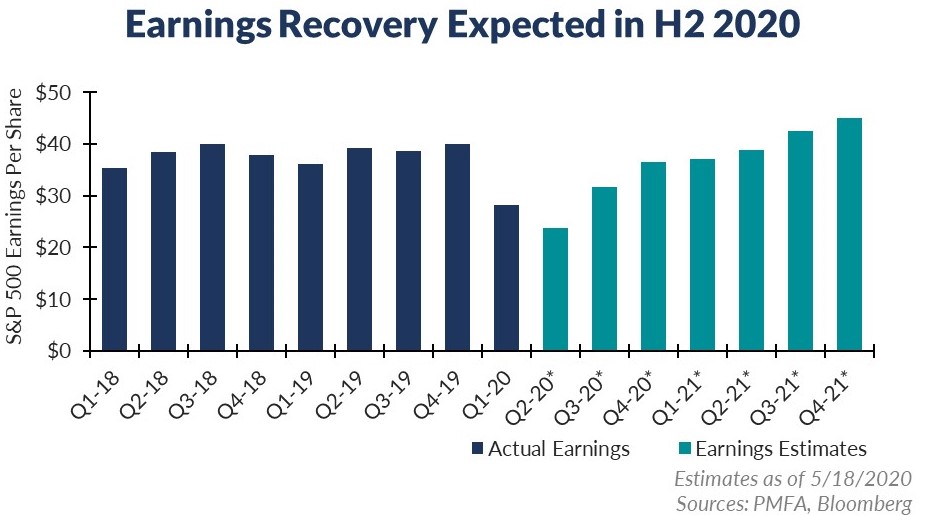 Nearly all companies in the S&P 500 have now reported first quarter earnings, confirming a sharp decline in profitability in recent months. Many lowered their guidance for the next several quarters, while others pulled their outlooks altogether. Coupled with recent economic data that has been resoundingly negative, investors may wonder when conditions will improve. Evaluating earnings expectations provides some valuable insights, as earnings forecasts track relatively closely with expectations for the real economy as well.
As illustrated above, earnings are expected to trough in the second quarter, followed by a rebound in the second half of the year. Even so, earnings aren't expected to reach their pre-recession level until well into 2021. The path forward for earnings will be dependent on progress made in containing the spread of COVID-19, the lifting of restrictions and reopening of businesses, and a marked improvement in consumer confidence and spending.
As of now, expectations for a near-term bottoming in corporate earnings corresponds with forecasts for the economy to also bottom over the next few months. Should that play out, improving earnings growth would provide solid fundamental support for equities and validate their sharp rebound since late March.