While economic data remains negative, positive signs are emerging. Every official measure of the economy helps paint a clearer picture.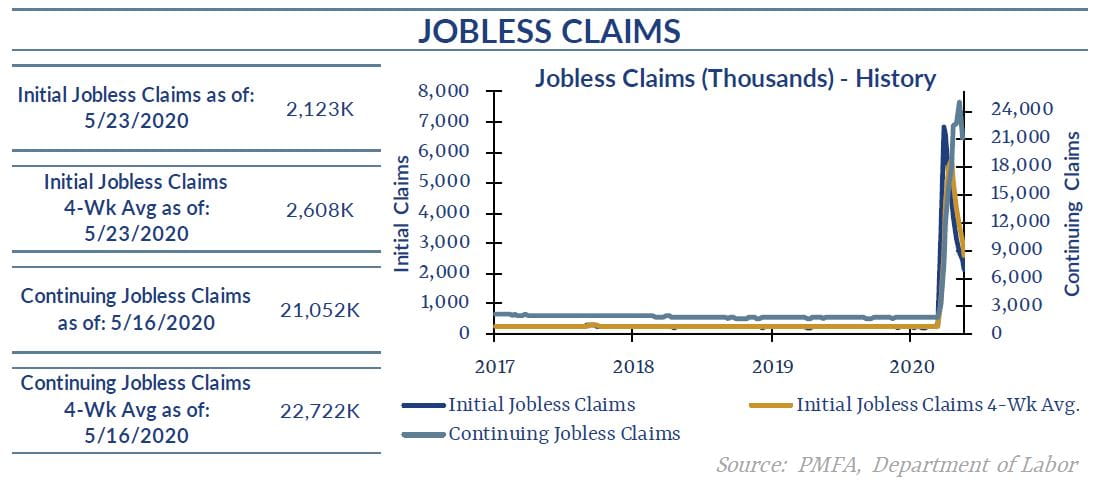 It's no surprise that economic data remains overwhelmingly negative — we didn't need official reports with numbers to know that the disruption in activity in the past few months was without precedent.
Still, with every official measure of some element of the economy, the picture becomes a little clearer.
Today's report on jobless claims illustrated that although labor market conditions remain poor, the weekly trend continues to move in a positive direction. Initial jobless claims of over 2.1 million are still exceptionally high by any historical measure, confirming that the pain for working Americans isn't over. Perhaps even more noteworthy, continuing claims came down sharply, a promising sign as some parts of the country lift restrictions and some sidelined workers return to work.
The government's second estimate for GDP for the first quarter was revised fractionally lower to -5.0%. Under different circumstances, that would be a major headline and source of concern, but barely reflects the impact of the aggressive steps taken to combat the spread of COVID-19. For over two months early in the year, the economy was on a solid growth path, and the last two weeks of March marked the turning point.
Revisions to the Q1 data were relatively limited, but suggest that consumer spending held up better than previously believed (-6.8% vs. the previously reported -7.6%), but an offsetting adjustment to inventories weighed more heavily on overall growth.
Second-quarter GDP is expected to be much worse, with the economy widely projected to have contracted by 20–40%. The unusually wide range of estimates alone is very telling. The question isn't whether or not the economy entered a deep recession — it did. Measuring the impact of the shutdown is exceptionally difficult, as is gauging the timing of its bottoming.
Ultimately, today's GDP report was nearly meaningless given the speed and magnitude of developments in the past two months. It tells a story about the economy two months ago: before the full impact of the economic storm and before the promising signs that are starting to emerge that the worst may now be behind us, even if the road ahead remains unusually uncertain.