While the magnitude of retail weakness is shocking, the fact that households have cut discretionary spending is no surprise.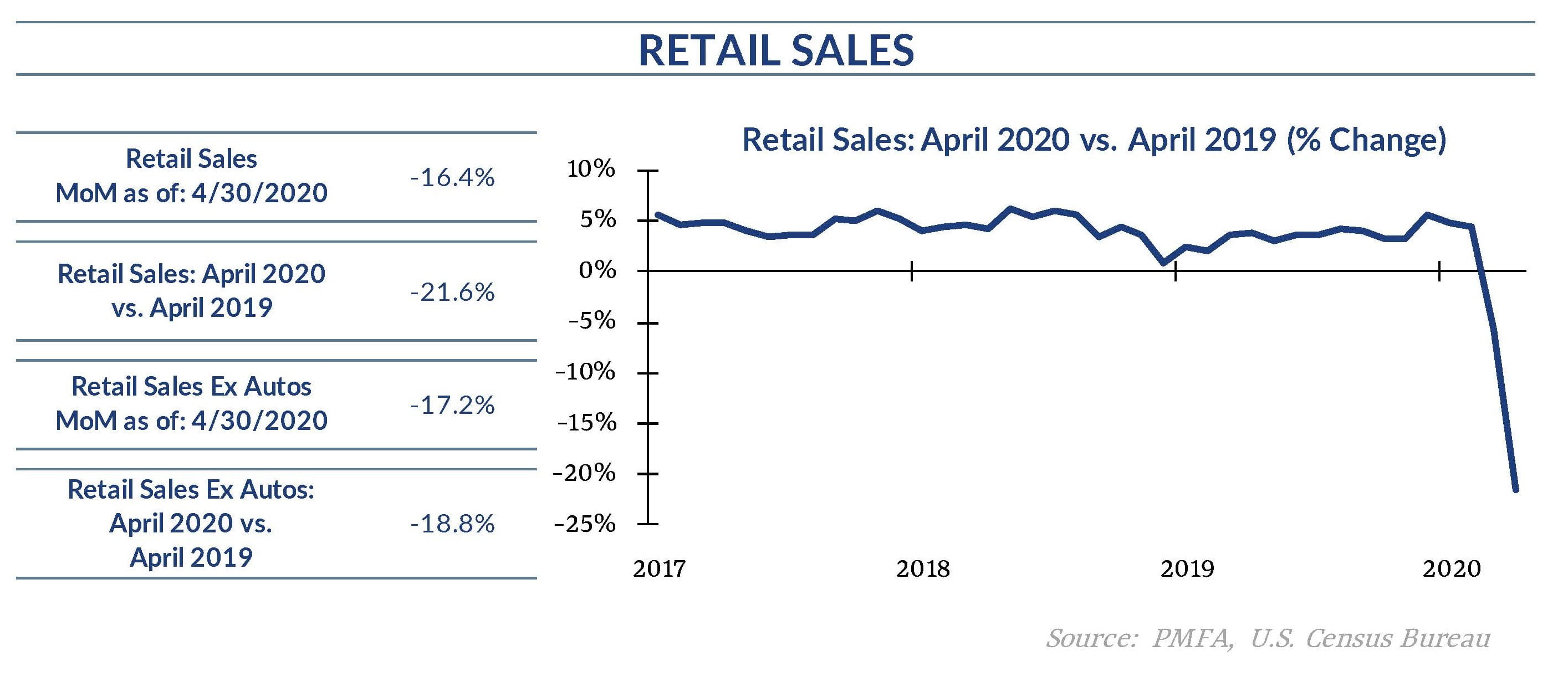 Retail sales continued to drop sharply in April, falling by 16.4% Core retail sales, excluding auto and gasoline sales, fell by a comparable 16.2%.
Consumers reacted quickly to the near shutdown in the economy in mid-March, stocking up on groceries while slashing spending on virtually everything else. That pantry-stocking buying binge subsided in April, leaving traditional retailers feeling the pain across the board.
Among the most negatively impacted sectors were those of a discretionary nature. Furniture, electronics, and apparel retailers all saw their sales slashed by more than half. Clothing sales were off nearly 90% from a year ago.
If there is a winner in all of this, it's online retailers. That was a trend that was already clearly apparent, but even more obvious today. Nonstore retailers saw sales grow by 8.4% in April, lifting the sector's year-over-year gain to over 21%.
While the magnitude of the decline is shocking, the fact that sales dropped by a record amount isn't surprising. Although the weekly pace of jobless claims has eased, Americans continue to apply for unemployment in historically significant numbers. The jobless rate is now at nearly 15% and still expected to rise further. It's no surprise that households have slashed discretionary spending.
Even expanded jobless benefits aren't sufficient to fill the income gap for many households. Perhaps more importantly, that benefit certainly doesn't act as a source of reassurance that all is well. A government check doesn't restore confidence, and it's not going to convince consumers to simply return to their spending habits of just a few short months ago, when the economy appeared to be on a solid footing and consumer confidence was relatively high.
Additionally, even consumers with money to spend will be harder pressed to find places to spend it. While some states are beginning to lift restrictions, many still have a variety of shelter-in-pace orders that are effectively keeping many retailers shuttered for now. While these efforts may have helped to combat the virus, they have taken a significant toll on economic activity, effectively shutting down much of the economy.
The greatest source of uncertainty continues to be the health risk posed by COVID-19, the effectiveness of policies geared toward containing its spread, and the resulting impact on economic conditions.
Of course, there is a risk of a resurgence in cases in the coming months, which could swiftly lead to impacted regions putting restrictions back in place. In addition, even if restrictions are lifted, it may be some time before some are comfortable returning to their pre-pandemic lifestyle and spending as they once did.
Until there is a greater sense of confidence that the virus is under control, economic activity is unlikely to return to normal. Still, the gradual lifting of restrictions across the country should signal a bottoming in the economy and the first steps toward recovery.
Media mentions:
Our experts were recently quoted on this topic in the following publication: