Stock markets are forward-looking, and often lead economic data by several months. This insight may explain the recent surge in stocks.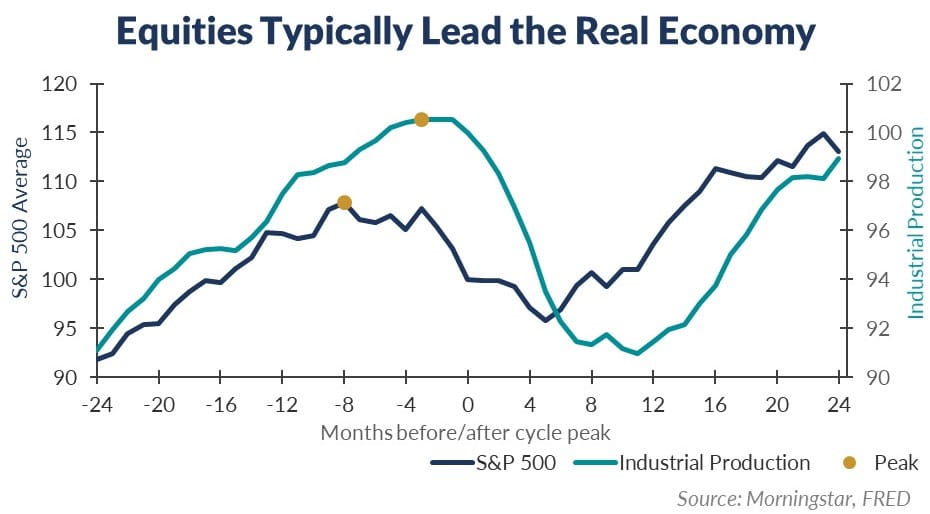 Much of the global economy virtually shut down in recent months, the domestic economy has started to see some of the worst economic data in decades, with record-high jobless claims, an unemployment rate near 15%, and GDP contracting by nearly 5% in the first quarter. Economists forecast that the pace of contraction during the current quarter will be much worse. Despite the bad economic news, equities have seen a significant rebound since the March 23 low. The result? The best monthly performance in April in more than 30 years, and the fastest 20% increase in the S&P 500 in history.
How can stocks be rebounding while economic data is not only poor, but getting worse? While there is a correlation between the economic cycle and the market cycle, it's important to note that the economy is different than the stock market, and the two rarely move in lockstep.
As illustrated in the chart above, stocks typically lead economic data by several months. Historically, the stock market has peaked about seven months prior to an economic downturn. Similarly, stocks have also tended to rally well before the economy troughs. More volatility is certainly possible, but the surge in stocks since late March indicates that investors are looking through the negative news to expect brighter days ahead.