Stock markets are forward-looking and generally rebound well before economic data turns positive. In the past month, some of the worst economic reports were followed by positive equity market performance.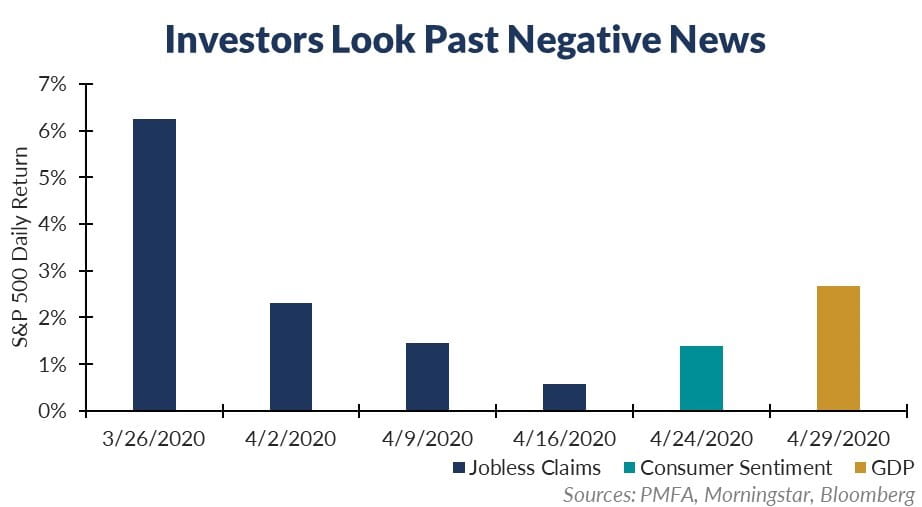 During the last weeks of March and throughout April, economic data turned decidedly negative as the impact of steps taken to slow the spread of COVID-19 became evident. Initial jobless claims surged to historic highs, consumer sentiment experienced its largest-ever one-month decline, and GDP dropped sharply. The economic picture was unambiguously negative. The magnitude of the decline in some of those reports easily eclipsed anything that would have been expected just a few weeks or months prior. What was the reaction in the equity markets in the trading session following the release of those negative reports? As illustrated above, equities often posted a positive return on the same day that the data released was not only bad, but worse than anticipated.
Clearly, that experience illustrates that day-to-day stock returns don't move in lockstep with the economy. Instead, equity markets tend to lead the actual economy, as investors look through current conditions in anticipation of what lies ahead. Stocks are inherently volatile, and price movements reflect the effect of a host of macro variables and company-specific news and developments, making day-to-day price movements highly unpredictable. The past month again illustrates that point. Even when the news is bad, it doesn't guarantee that the markets will react negatively.