Do you have business operations in China? With COVID-19 quarantines and limited flights, in-person oversight may prove to be challenging. An operational review can improve transparency and mitigate risk.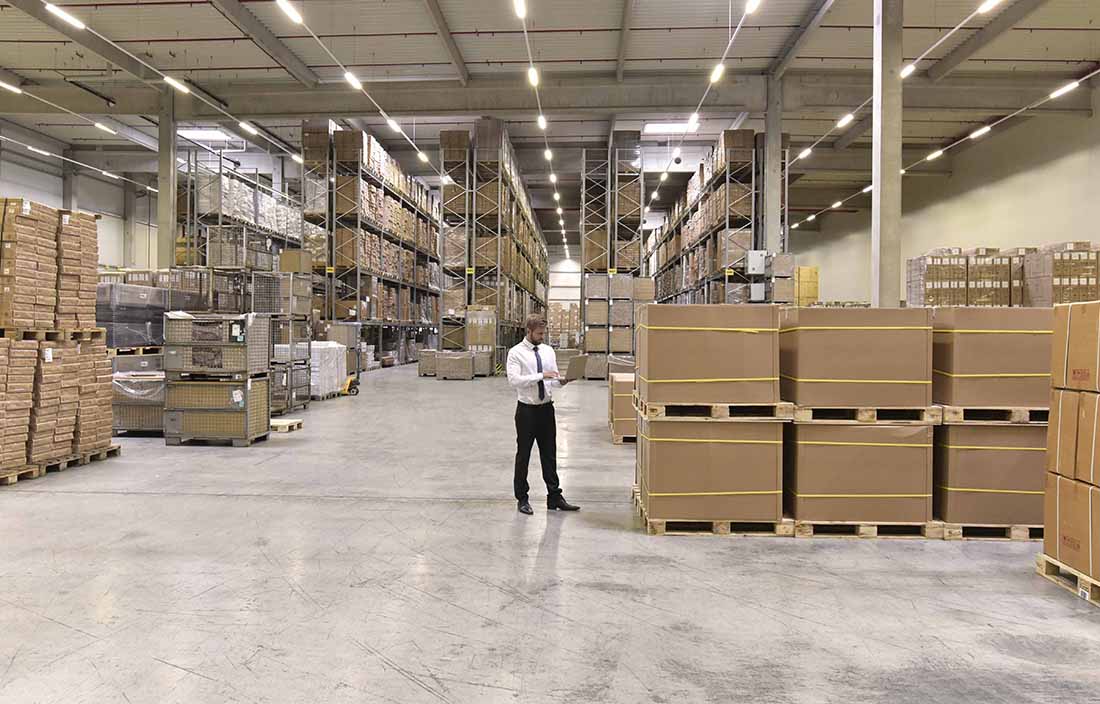 For many U.S. auto suppliers and other manufacturers with operations in China, the COVID-19 pandemic continues to pose new challenges, including off-site oversight and management of your facilities.
Owners and executive teams arriving on inbound flights to China currently must quarantine for 14 days, with similar periods of isolation required upon return to the United States and other countries. Flights are difficult to procure, and ticket prices are — pardon the unintended pun — sky-high. With pandemic-related rules and guidelines in flux as well as political uncertainty, the ever-changing COVID-19 situation has many business owners postponing visits to their Chinese plants. This leaves a U.S.-based company leadership few choices other than remote oversight of and reliance on their teams on the ground through phone calls, video meetings, and documents sent by email.
But the reality is, remote oversight isn't enough, and it leaves companies vulnerable. Historical reporting — which is essentially what remote oversight gets you — is not likely to alert you to issues that require action until they're costly and difficult to correct. What you don't yet know about your operations can get your company into trouble: Are you able to operate effectively? Are you getting the materials you believe you're getting from your suppliers? Are you getting quality parts out to your customers? Are tax filings being made accurately and on time? Is everything occurring that should be? (And, is anything occurring that shouldn't be?)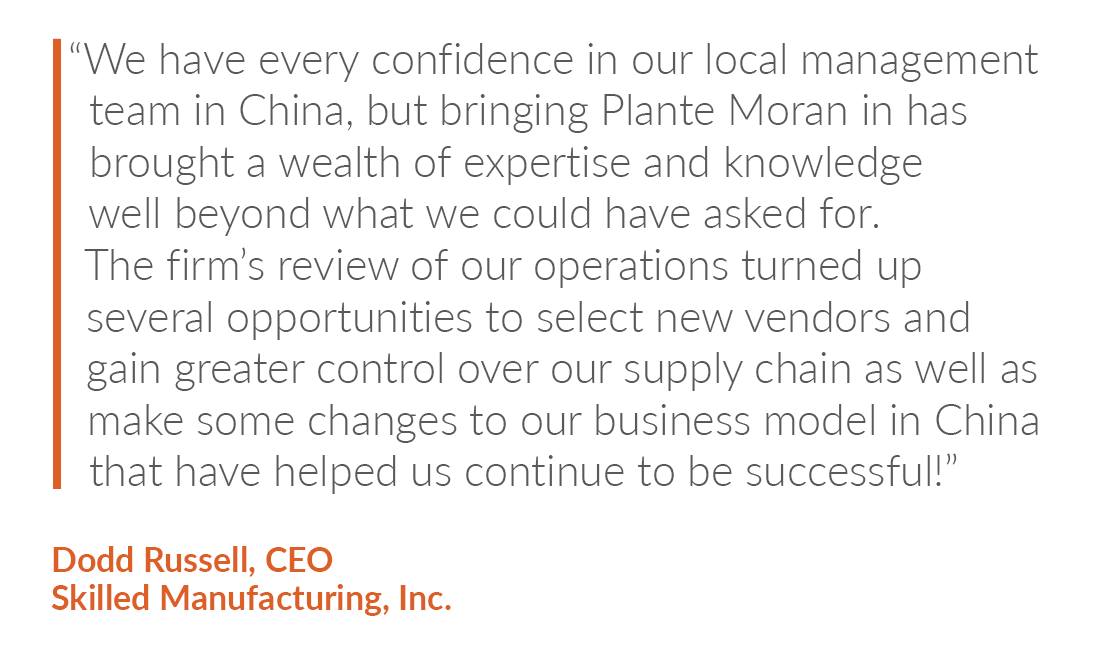 As part of your usual internal control processes and procedures, these are some of the questions business owners need to be asking and verifying on the ground. If you're not there — or not able to read and fully understand source documentation to confirm the answers to your inquiries — how can you be sure?
You can't. But there is a three-step solution.
Step 1: Assess the risk and be aware of the impacts.
The first step is to be alert to the risks and the impacts since your business's reputation, finances, and the livelihood of your workforce could be at stake if financial or quality issues go undetected due to a lack of effective oversight.
For auto suppliers and other manufacturers, some of the risks we've seen businesses exposed to include:
Accounting, finance, or tax irregularities or missed filing deadlines, including increased accounts receivable balances and inappropriate cash payments for expenses.
Customer management challenges, including improper or unvetted intermediaries entering the sales channel.
Operational efficiency problems and missed metrics, such as scrap rates, missed QA steps, and quality issues with raw materials, component parts, and finished product shipped to customers.
Vendor management issues or improper selection or payment of vendors.
Missed product launch deadlines.
Missed opportunities to obtain COVID-19-related tax incentives.
Falling out of compliance with environmental regulations.
If you can imagine it, we've seen it. Take the manufacturer that learned of inconsistencies from an external review. Analysis showed the company was leasing significantly less space, and from a different landlord, than it understood from the English-language version of its lease. Or consider the company that believed it was buying directly from its supplier when the entity was, in fact, a broker that was inflating prices and still not delivering the right product. Or the business whose supplier of a key raw material began delivering subpar quality — unnoticed until customers began pulling bread-and-butter contracts.
Whether the missteps are because of inadvertent errors, fraud, or a local management team that simply makes different decisions than you as an owner or executive would, they can cost dearly in potential financial penalties, missed opportunities, and loss of control. Depending on the size of your operations in China and your organization's reliance on them, the result could pose a significant challenge, if not outright threat, to your business.
Step 2: Develop an immediate plan.
As a foreign owner of manufacturing operations in China, do you have a plan in place for oversight during the duration of the COVID-19 pandemic? What's your process? What best practices have you implemented?
An external review helps reduce assumptions and potential misunderstandings, and it can lessen your management team's risk.
Having a third party perform the executive oversight function, including in-person operational reviews with summary reporting and photo and video documentation, can help bridge the gap during unprecedented times and make recommendations for the future in areas such as finances, plant optimization, supply chain, tax strategies, tariffs, and more.
The service provider you choose should:
Have extensive experience advising U.S.-owned businesses in China.
Be responsive and positioned to provide your review and report within days to a couple of weeks.
Have a fully bilingual staff on the ground in China.
Be a wholly owned U.S. subsidiary rather than outsource to a local partner on the ground — this ensures the same quality of work as experienced in the United States.
Be priced competitively — and on par with corporate travel costs for your executives to oversee your operations.
Possess the expertise to perform a broad and deep operational review — including financial analyses, financial statement, reporting, and tax filing validation, A/R and A/P analyses, human resources and payroll analyses, review and analysis of production management, inventory and fixed assets, and eligibility for COVID-19 incentives.
Step 3: Reassure your local management team.
A third-party operational review not only can reassure your U.S.-based executive team but also your local management team in China. An external review helps reduce assumptions and potential misunderstandings, and it can lessen your management team's risk. Most importantly, it can strengthen accountability and transparency and ensure your operations continue the way you intend amid these challenging times.
Was this helpful? If you'd like to learn more, provide your email, and we'll reach out within 48 hours.