Changes in underlying data continue to reflect the massive changes that have occurred in consumer spending in recent months.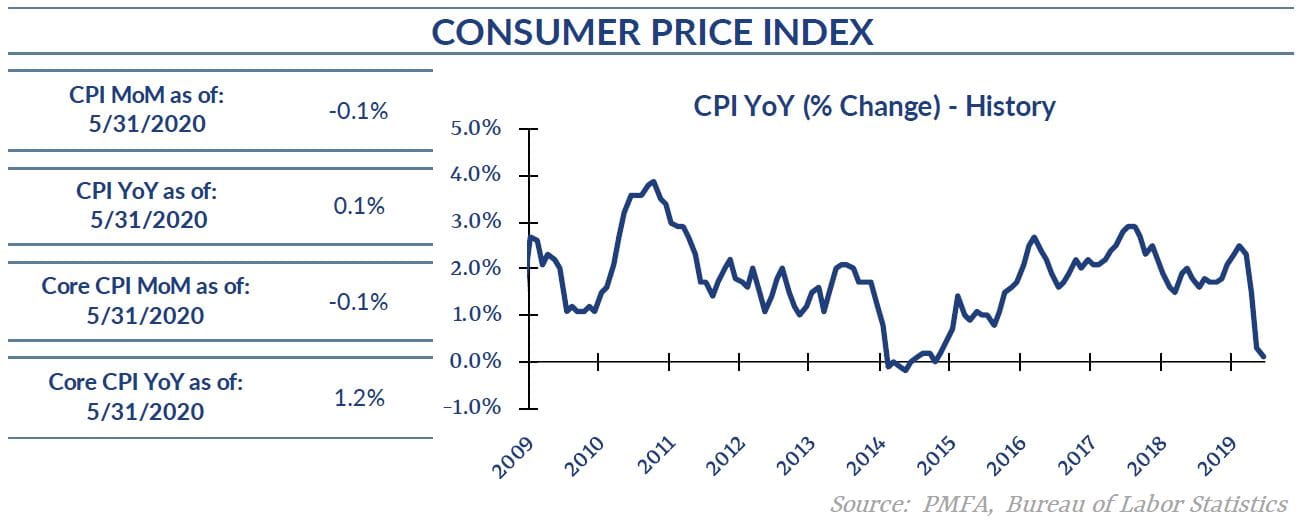 Consumer prices edged lower for the third consecutive month in May, driving inflation down to virtually zero over the past year. Headline inflation declined by 0.1% in May, and the CPI for the trailing 12 months fell to just 0.1%.
Changes in underlying subindexes continue to reflect the massive changes that have occurred in consumer spending in recent months. With travel still significantly curtailed, gasoline prices dipped by 3.5% in May; fuel prices are down nearly 34% in the past year. Prices at the pump should begin to recover as demand rises, but with so many still working from home or unemployed and discretionary travel still restrained, gasoline demand won't bounce back to pre-pandemic levels in the near term.
Conversely, food prices rose by 0.7% in May, with grocery prices in particular rising. Food for preparation at home was up 1.0% last month and more than 4% in the past three months, reflecting the shift in consumption. The combination of forced closures and consumer fears over the health risk of public exposure have slammed the restaurant industry since March. Grocers have benefited by a sharp increase in demand, but consumers have felt the pinch as prices have risen, particularly for products in high demand or those that have experienced supply interruptions.
Aside from volatile food and energy prices, the core inflation measure also declined by 0.1%, but remains up 1.2% over the past year. Most notably, housing costs have increased by 2.5% over the past year, but the pace of increase has slowed in recent months. Medical expenses continue to rise at a rapid 5.9% clip. Discretionary spending on goods such as vehicles and apparel has declined, and the impact of a sharp slowdown in spending on such goods is readily apparent in falling prices.
Broadly, slowing inflation reflects both the rapid decline in consumer spending in recent months and the sea change in the nature of the spending that occurred. Households are spending less and saving more: they've sheltered in place, shifting their remaining spending to goods and services consumed at home. The impact was sweeping; although spending habits will evolve as the economy reopens, some of those changes may have longer-lasting effects.
Will consumers return to their daily routine when restrictions are lifted, or will continued health risk hold some back and contribute to some degree of continued social distancing? Undoubtedly, that will be the case for many.
Low inflation isn't necessarily a bad thing, and it's reasonable to expect it for some time during a recession. One positive is that low inflation leaves the Fed more room to implement additional monetary easing if needed. More problematic would be a sustained period of deflation, or a general decrease in prices, as this may weigh on consumers' future spending habits, which could delay the recovery. For now, prices appear to be stabilizing but still have a long way to go. It will be some time before the slack in the economy will be absorbed. Although supply disruptions may result in higher costs for some goods or services, demand is likely to build gradually, keeping a lid on prices for some time.