Exposure to long-term treasuries was beneficial to the Agg this year but creates an additional source of risk looking ahead.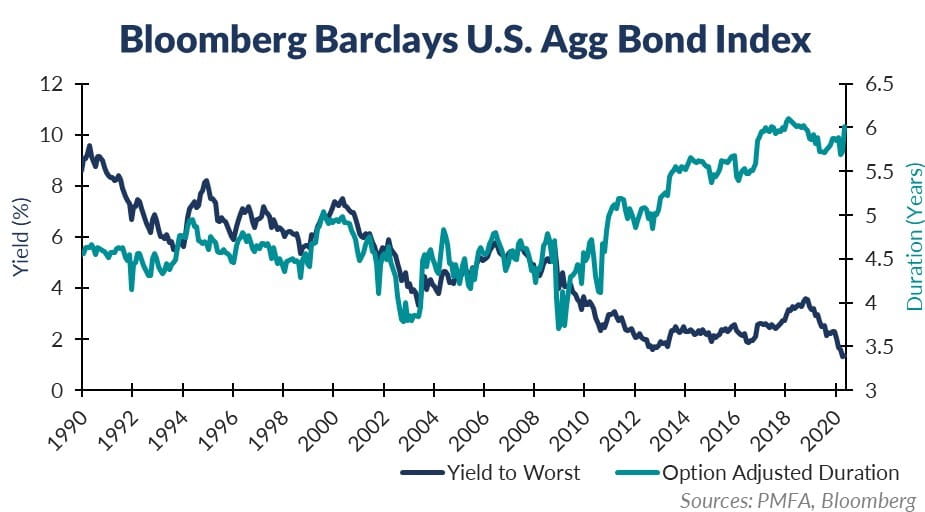 Interest in passive (index) investments has grown significantly in recent decades, with more investors turning to low-cost index options. Investors seeking a taxable core U.S. fixed income strategy may invest in index funds that seek to replicate the returns of the Bloomberg Barclays U.S. Aggregate Index (the "Agg"). Investors should be aware that index characteristics can change considerably over time, which can also expose the investor to unwanted, and avoidable, risks.
As interest rates have fallen in recent decades, the Agg's yield has also declined. Increasingly, those low yields and growing treasury exposure in the index have lifted the index's duration (or degree of interest rate sensitivity). When yields are falling, that longer duration can be beneficial; however, with interest rates now exceptionally low, a long-duration portfolio creates additional downside risk to investors should interest rates rise. At the same time, the incremental yield provided by long-term treasuries is limited, suggesting that investors aren't being well compensated for taking that risk.
Active bond managers have an advantage in their ability to create a high-quality portfolio, while seeking opportunities to add value and manage around unwanted risks. There is a place for indexing in investment portfolios, but it isn't without risk. As with any investment, understanding those risks is critical.