With more economic data pointing toward an upturn in activity, it increasingly appears that the recovery is underway.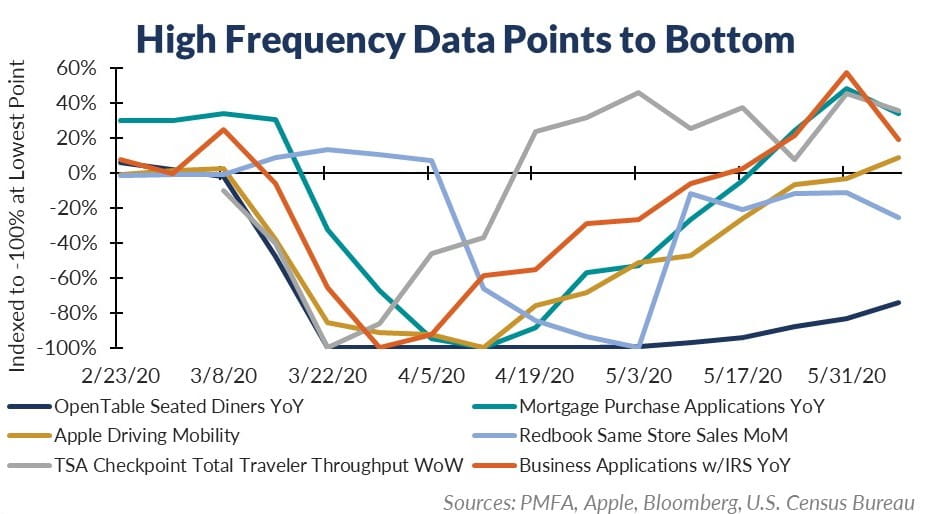 As the U.S. economy begins to reopen, there's a growing sense of relief that day-to-day restrictions are being lifted, even if it's tempered by the realization that the virus itself hasn't been eradicated and another wave could result in additional restrictions being reintroduced at some point. What does this all mean for the economy? As with the health risk itself, recent developments don't signal an "all clear," but do indicate that activity likely bottomed in April. As activities resume, the economy itself is showing clear signs of moving into recovery.
Hard data like GDP is reported at a lag, limiting its timeliness and value. Instead, we can look toward high-frequency data that's much timelier to help confirm a turning point in the cycle. As illustrated above, measures of mobility and travel have perked up, and retailers are benefiting. The fact that business applications and mortgages for new home purchases are improving are also very telling.
Recently, the positive effects are materializing in other data as well, such as the May retail sales report, which came in much stronger than expected. It will take time for overall output and employment to return to their pre-pandemic levels. There is growing evidence that the recovery is underway, although risks remain. Further volatility is certainly possible, but a return to growth bodes well for risk assets including stocks.