While the amount of money in the system matters, so does the speed at which those dollars circulate.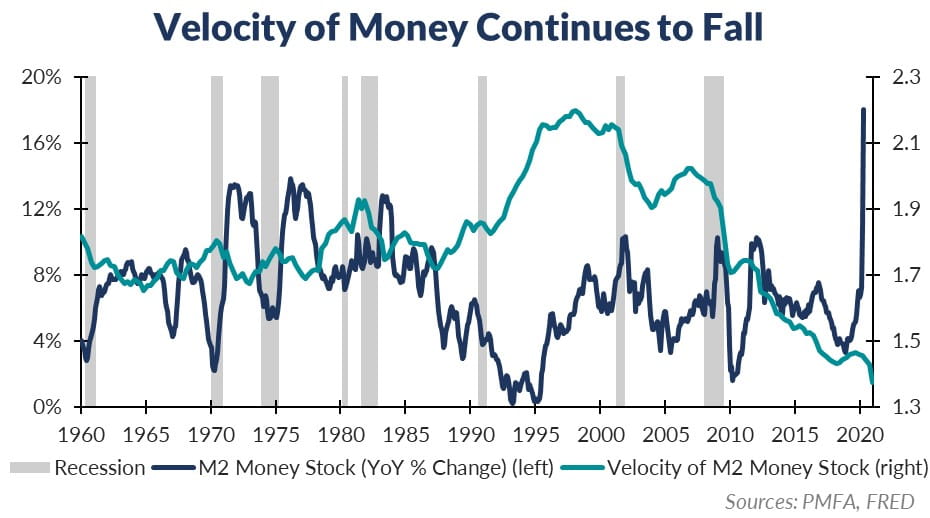 In response to the sharp decline in the economy, the Federal Reserve moved swiftly to make direct purchases of Treasuries, mortgages, and other securities to promote stability and the functioning of those markets. Those actions injected significant liquidity into the system, also causing a sharp increase in the money supply, as illustrated above.
Growth in M2 (a broad measure that includes physical currency, checking and savings deposits, and other highly liquid, noncash assets) is closely monitored as a gauge of the money supply and is viewed as one indicator of future inflation risk. The recent surge in the money supply has raised the specter of inflation once again. The amount of money is only part of the story though; the speed at which money is trading hands — also known as the velocity of money — is equally important. In recent months, consumer spending and business investment have fallen sharply, while the savings rate has surged. The result? Dollars aren't circulating as quickly, and the velocity of money has dropped sharply.
Even before the recent downturn, the velocity of money has been slowing since the late 1990s. Inflation has also remained low during that period. In time, the Fed will likely have to reverse course and remove that liquidity to avoid an unwanted inflationary surge. For now though, the risk of rapid money supply growth leading to unwanted inflation is low.