It's far from a pre-lockdown "business as usual," but the unexpectedly strong rebound in retail sales in May suggests that consumers are tired of hunkering down and are ready to open their wallets once again.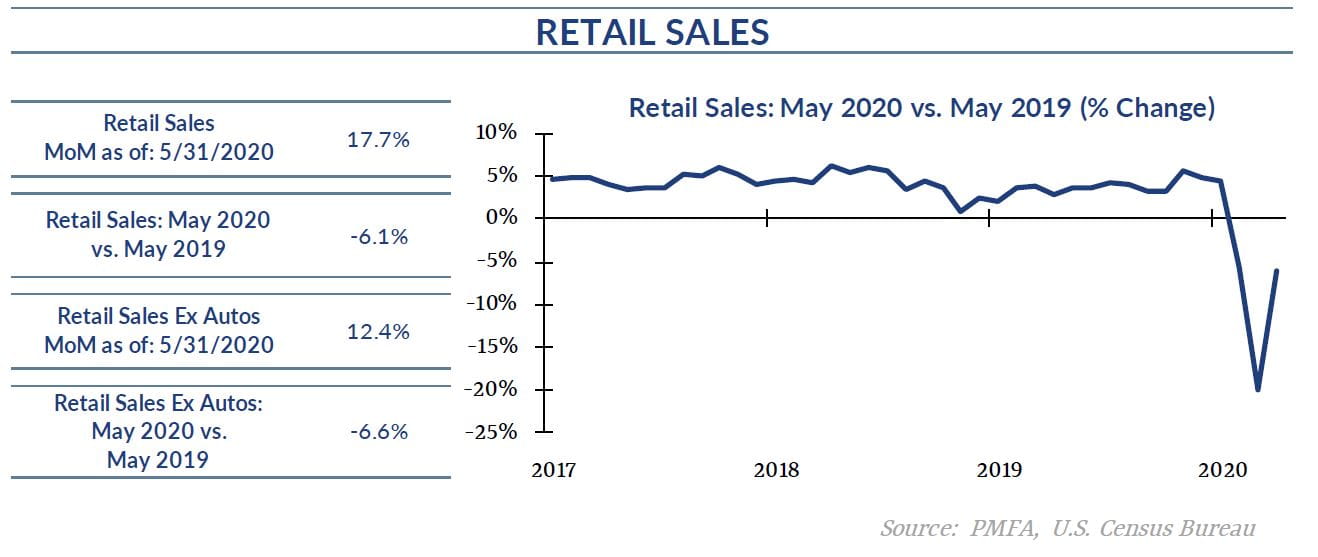 Retail sales bounced sharply higher in May, increasing by 17.7% as consumers began to emerge from their spending exile and aggressively resumed spending. Expectations were for a strong single-digit increase, but the actual sales gains easily outstripped expectations.
After two months of unprecedented contraction in retail sales, this month's reading is another strong indicator that the economy has likely found a bottom and the recovery is underway.
Retailers across a range of sectors saw sharp sales increases. Of particular note is the surge in purchases of high-ticket items, which wouldn't be expected if consumers were still bunkering down en masse or significantly concerned about the near-term outlook. Auto sales rose by more than 40%, electronics sales rebounded by 50%, and furniture and furnishing sales soared nearly 90%.
An important question, as the country is coming out of extended shutdowns, has been how fast spending and activity would bounce back once cases begin to level of and restrictions are lifted. Direct income replacement and stimulus checks provided fuel for households at the same time that spending was curtailed. The sharp reduction in spending resulted from a convergence of negative factors: the adoption of a bunker mentality for many amid considerable uncertainty, the sudden (and lengthy) closures of most restaurants and retailers, and lifestyle changes that didn't require the same degree of spending.
Now, with many restrictions lifted and at least a temporary boost to sentiment, consumers have both the capacity to spend and the desire to do so.
Although the single-month results are impressive, it's still important to acknowledge the rest of the story: retail sales are still down meaningfully from their levels a year ago. The sharp bounce off the bottom looks promising as a single-month gain, but many retailers are still feeling pinched. Restaurants, apparel stores, and gas stations are all still well off their prior-year sales levels. The worst may be behind them, but the potential for further closures still exists for restaurants and retailers that simply can't absorb an extended reduction in cash flow.
The retail sales report tells a strikingly similar story to other recent data on the economy, and the takeaways paint a picture that is increasingly clear. The risk of a second wave of the virus can't be dismissed, and the potential for another dip at some point in the coming quarters certainly still exists. Moreover, the damage inflicted by the virtual shutdown of the U.S. economy will take time to fully repair, and some facets of the economy will experience lasting effects from the change in lifestyles and shifting preferences.
Still, it increasingly appears that the bottom is in and activity is rapidly accelerating as the economy reopens. The rebuilding process is underway.