Although initial jobless claims for the week came in higher than expected, one weaker-than-anticipated result doesn't negate the progress being made.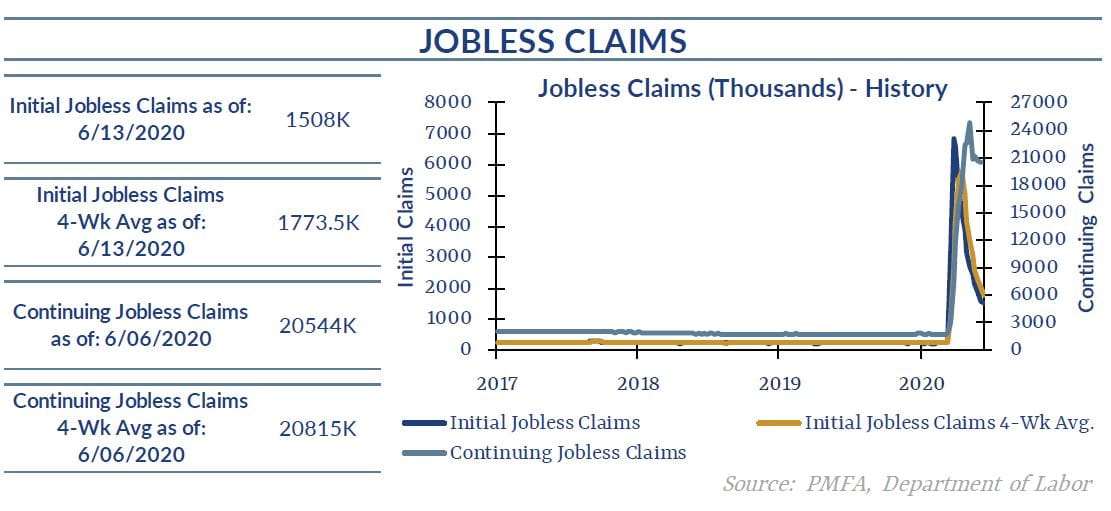 Initial jobless claims have been in a gradual downward trend for some time, and while they declined moderately last week, the report of 1.51 million new claims last week was meaningfully higher than expected. Prior-week first-time claims were revised upward to nearly 1.57 million, contributing to the 58,000 drop. Economists had been expecting a more pronounced decrease to around 1.3 million, making the relative outcome a disappointment, even if it pointed to continued healing in the jobs market.
While still very high by historical standards, initial claims for unemployment insurance have come well off their recent highs. This week's reading, while far from a "good" number compared to historical averages, continues that trend, which indicates that labor markets continue their gradual improvement. The four-week moving average declined sharply again last week from over 2.01 million to 1.77 million, a more pronounced change that reflected the improving trend in claims in recent weeks.
Additionally, the number of Americans remaining unemployed has improved significantly since April as restrictions were lifted across much of the country and employers tentatively began to rebuild their payrolls. The May employment report indicated that rehiring rebounded much more quickly than expected, with the unemployment falling to 13.3% — a stark contrast to the expectations of the jobless rate breaching the 20% threshold.
A firming jobs market should help boost consumer spending, as people regain employment and the fears about the near-term outlook for the economy ease. That was very apparent in the recently released May retail sales numbers, which rose nearly 18% from the previous month, the biggest monthly increase on record.
By any measure, claims are still very high; the fact that last week's decline was limited will be viewed as a disappointment for those hoping for continued, rapid improvement in labor market conditions. However, there's no denying the downward trend, and one weaker-than-anticipated result doesn't negate the progress being made.
Still, the jobs recovery is going to take some time. Payroll losses usually accumulate rapidly in a recession, although the speed and magnitude of the losses in recent months is without precedent. It always takes longer to rebuild during the recovery phase; while unemployment is likely to continue to recede, the jobless rate isn't going to be back at pre-recession levels any time soon.
More broadly, it increasingly appears that the economy has bottomed out and is in recovery mode. There is still significant risk created by growing viral outbreaks in the near term, which could lead to restrictions being imposed in the impacted regions and a resulting curtailment in activity and spending. Clearly, the path back to full employment and a solid economy isn't going to follow a straight line. The good news is that based on recent data, at least for now, that still appears to be the path that we are on.