Massive spending measures will cause a spike in the federal deficit, but probably not surging inflation.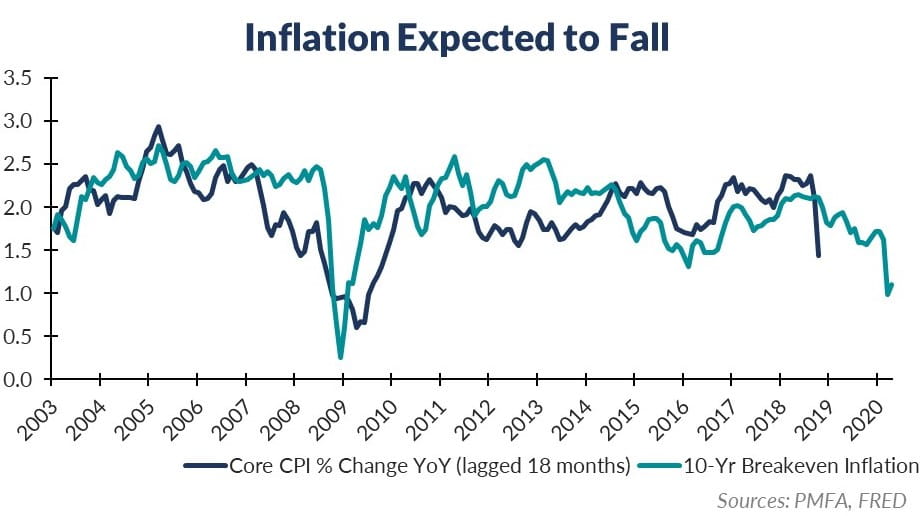 With governments and central banks across the world pumping unprecedented amounts of fiscal and monetary stimulus into the global economy, more voices are warning of the risk of inflation. Such commentaries are very reminiscent of similar inflation concerns raised during the global financial crisis and its immediate aftermath.
All else being equal, flooding the financial system with cash can create inflationary risk, but today — all else isn't equal. To the contrary, inflation pressures have fallen in recent months as policies intended to curtail the health risk presented by the spread of COVID-19 effectively resulted in the shutdown of much of the economy. Demand rapidly dried up for many goods and services, and prices broadly softened.
A broad-based increase in inflation does not appear to be a near-term risk, but prices should stabilize as the economy recovers. Price pressures could be more pronounced for certain goods and services, particularly those for which social distancing requirements could result in reduced capacity to provide the service as demand rises. Even so, investors are currently pricing in expected inflation of about 1.15% annualized for the next decade.
The excess slack in the economy will persist for some time; inflation expectations have been ratcheted lower in response. The fiscal stimulus intended to bridge the gap will result in a record fiscal deficit this year, but it likely won't cause a near-term surge in inflation.