Helping kids understand finances: Activities and conversations for any age
The sooner you can teach your kids about money, the better they'll handle their finances. Here's how to lay the foundation for a healthy relationship with money.
Parents and grandparents often ask us when is the right time to start talking with their children about money. Our answer is "yesterday"! While every family is different, and there isn't one formula for success, there are age-appropriate concepts for different stages of maturity.
Focusing on concepts that are relevant to a child, teenager, or even twenty-something (and their interests) will result in a more meaningful conversation and a higher probability of successful application. There are multiple priorities at each stage, but we find keeping it simple is generally preferred.
We've created the chart below and identified one priority for each age group plus a few ideas on how to get started.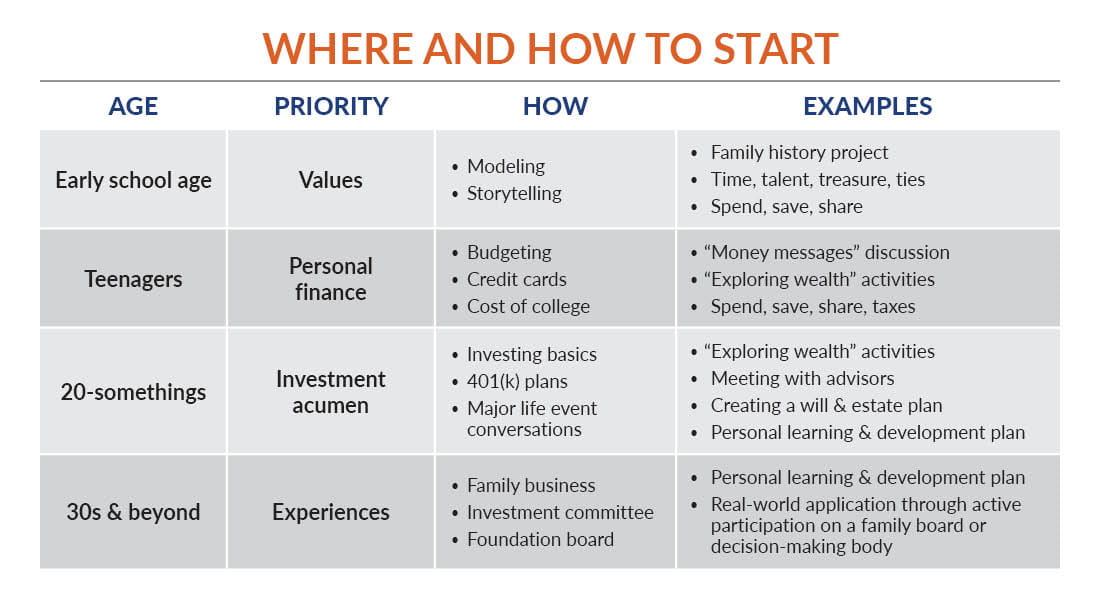 Reach out to your Plante Moran relationship manager to learn more about the ideas and activities shared in this chart. For example, "spend, save, share" is a budgeting concept that encourages kids to divide their funds into three buckets: one to spend, one to save, and one to share (think philanthropy or something for a specific person). As kids get older, a tax bucket can be added as preparation for that first paycheck! Activities like "Money messages" and "Exploring wealth" are from a nonprofit organization called 21/64 that focuses on multi-generational philanthropy.
The key to success with each priority is the time and attention you commit to the process as a parent and/or role model. The most important concepts related to money aren't always the technical aspects. They're the values-based experiences that influence one's perception of wealth, risk, and responsibility. Find simple and straightforward ways to teach your children these skills and principles through activities that are part of your everyday life. For example, we worked with a family interested in an activity for their school-age grandchildren. We suggested a family history project that included a homemade family tree with old pictures and a simple timeline, which the grandchildren presented at a family get-together. Stories were shared from multiple perspectives and generations that demonstrated the family's values, which further enhanced the learning process for all involved.
Another client asked about how to help their recent college grads prepare to invest their first 401(k)s. The family introduced us to their kids via email and encouraged them to have one-on-one conversations with members of our PMFA team. We selected advisors that were similar in age to these individuals, which allowed for a conversation with a peer instead of "Dad's advisor." This was a helpful first step toward financial independence. Practical application and the opportunity to learn, disagree, and make mistakes are all part of preparing your children.
Keeping your kids grounded and preparing them for the future is a daunting task. The most successful families generally don't fall into extremes — kids are supported and loved, but allowed to misstep and learn from their mistakes. Basic concepts around money and family values are shared and modeled, far from being taboo subjects. Regardless of your children's age, it's never too late or too early to start teaching them sound money skills and financial management. Kids today are navigating competing messages from peers, social media, and advertising. Families with strong communication and open dialogue will create a consistent and stable voice amidst all the noise. The parents who don't always get the lollipop at the store or do make their teenager pay for their car insurance are building character through delayed gratification. The value of limiting excess pays dividends down the road.