Continued resurgence in COVID-19 cases throughout the United States has dampened spirits for the economic recovery.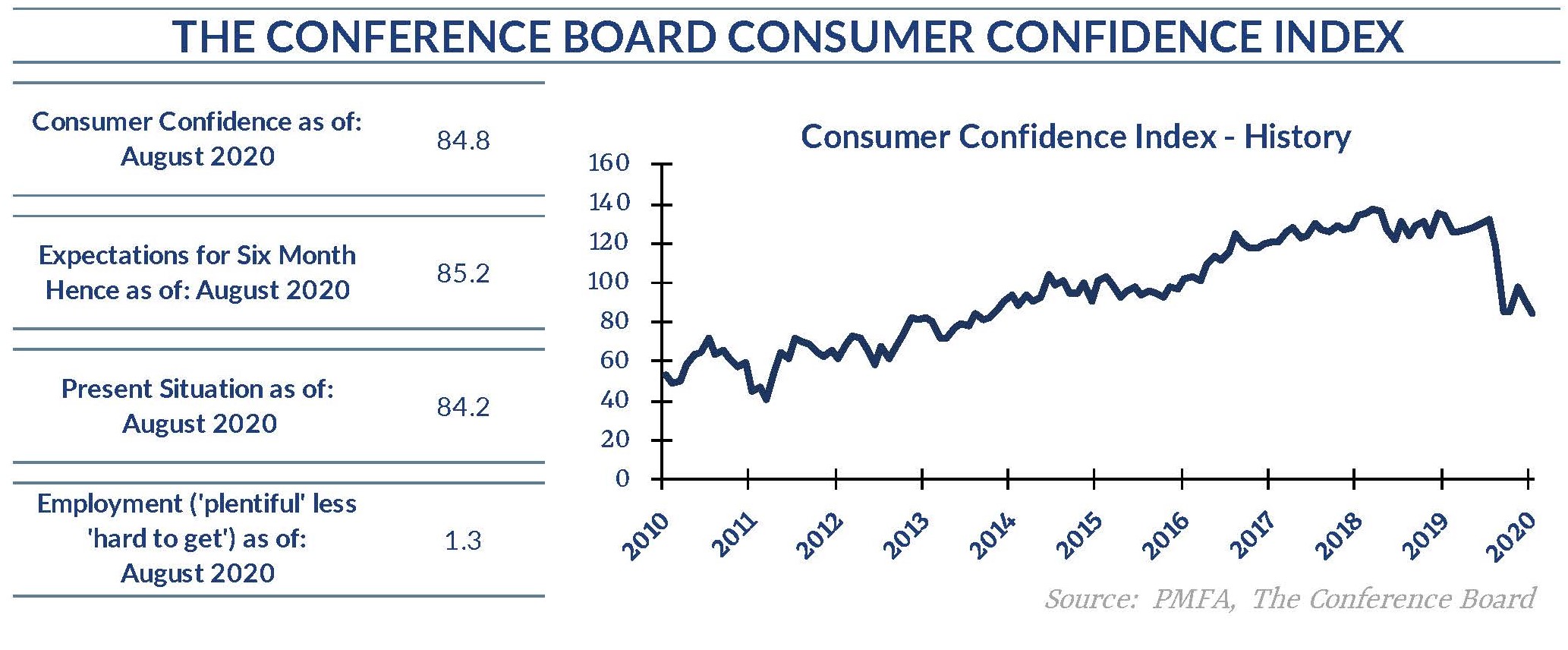 The Conference Board's measure of consumer confidence dropped sharply to 84.8 in August from the 91.7 reported in July and falling well short of the expected 93.0. This marks a new low point for confidence since the pandemic broadsided the U.S. economy earlier this year.
Consumers turned more pessimistic about both the current state of the economy and their expectations for the future, as the continued resurgence in COVID-19 cases and further evidence that the economic recovery was slowing dampened spirits.
Consumers' assessments of current conditions indicated a precipitous slide from 95.9 to 84.2, while expectations for future conditions dimmed more modestly, dipping from 88.9 to 85.2 over the past month.
The consumer mood had brightened significantly in June, driven by an unexpectedly strong pickup in a range of economic data and an easing of some restrictions aimed at curtailing the spread of COVID-19, providing some hope for better days ahead.
That resurgent optimism has since been tempered by the ongoing risk to the economy and the fragility of sentiment in the absence of a breakthrough COVID-19 vaccine or treatment. Certainly, indications of progress in the development of a vaccine have been well received by the stock market, which has continued its ascent despite evidence that the pace of recovery is slowing. Hearty gains therein aren't enough to offset other concerns weighing on consumers though.
With the end of summer fast approaching, schools across the country are in the final stages of preparation for a resumption of classes, either remotely or in person. Schools returning to in-person classes will represent a critical litmus test for broader strategies geared toward limiting the spread of COVID-19. If the increase in cases can be relatively contained, it may provide a bit of a boost to sentiment; conversely, a surge reflective of another widespread outbreak would undoubtedly weigh further on confidence and spending.
Media mentions:
Our experts were recently quoted on this topic in the following publications: