Consumer prices rose again in July, as demand for various goods and services increased. The question is whether the growth in economic activity can continue, or if the surge in COVID-19 cases will prompt tighter restrictions.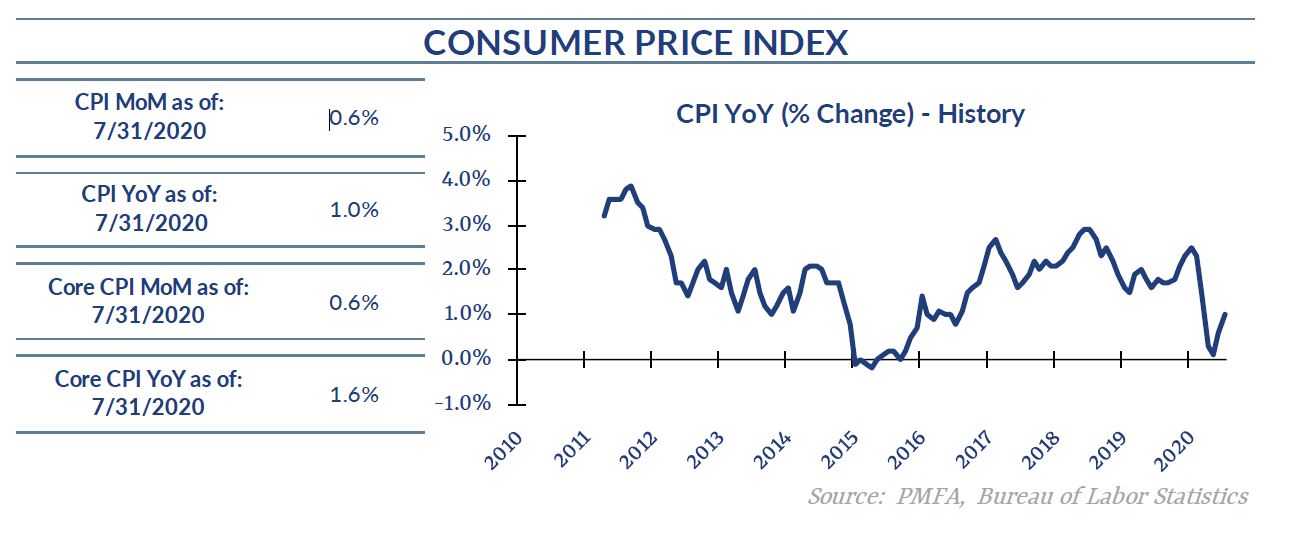 The consumer price index (CPI) rose by 0.6% in July, well above expectations. The core index also rose by 0.6%, signaling that the forces pushing prices higher aren't limited to more volatile food and energy costs. The second consecutive monthly increase lifted the headline index to 1.0% over the preceding 12 months, while the core index rose by a more notable 1.6% during that same period.
Prior to the last two monthly reports, inflation had fallen sharply as the economy took a nosedive in March. As demand for most goods and services — notably excluding groceries — collapsed, prices also fell. The strong rebound in economic activity and pickup in demand in the past few months alleviated the negative price impact of the preceding rapid decline in spending.
While price increases were relatively widespread, outsized gains in energy, vehicle, and transportation costs point to increased mobility and some pent-up demand for travel and bigger-ticket purchases. Falling grocery prices were partially offset by increasing restaurant pricing, also suggesting some shift in demand resulting from an incremental return toward dining out or ordering in.
At this point, it appears that the recent pickup in inflation has been more about the retracement from the lows in March and April rather than a telling sign of mounting price pressures.
Parts of the economy are still feeling the effects of reduced production capacity as a byproduct of policies introduced to encourage social distancing and reduce the potential spread of COVID-19. This is most notable in certain service businesses and in the reduced capacity at many restaurants. Increasing demand could drive prices even higher in those impacted parts of the economy in the coming months if capacity remains constrained. The path forward will likely be dictated by potentially competing forces: the degree to which government policy restricts business and consumer activity to address health risk, and the extent to which individuals attempt to return to a more normal, pre-pandemic lifestyle.
Conversely, the recent surge in cases creates some doubts about the likelihood that recent progress on reopening the economy can continue unabated, and the risk of a second wave still looms.
For now, elevated unemployment and economic slack appear likely to keep a lid on inflation. Before the recession, inflation was running below the Fed's 2% target even with the jobless rate at a half-century low. Reconfigured supply chains and reduced production capacity may alleviate some of the impact of lower demand, but inflation appears likely to remain contained in the near term.
Media mentions:
Our experts were recently quoted on this topic in the following publications: