Continued growth in retail sales indicates that the recovery is still on track, but the initial surge off the bottom is fading as the rebound is showing clear signs of losing momentum.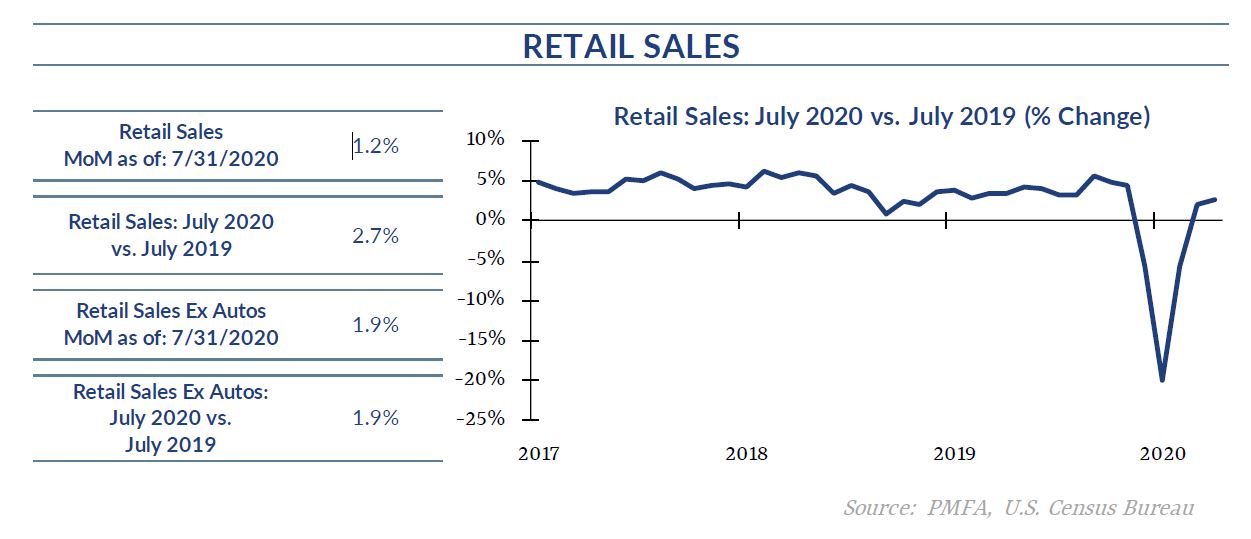 Retail sales improved again in July, increasing by 1.2% while undershooting expectations for a 2.0% increase from the prior month. Core retail sales, excluding auto and gasoline sales, came in stronger at a 1.5% increase, lifted by higher gasoline prices and greater demand. Although the monthly gain was a bit disappointing, June's already-strong increase was revised upward from 7.5 to 8.4%.
Although top-line growth wasn't entirely favorable, clear winners were still apparent. Electronics and appliance stores saw sales increase by nearly 23% in July, while restaurants experienced a 5% increase in sales. The latter is particularly noteworthy given the limitations that remain in place and the expectation that additional restrictions imposed in response to the recent uptick in COVID-19 cases might weigh more heavily on restaurant traffic and financial results.
Strong figures over the last several months were largely due to pent-up demand, as consumers were eager to spend after several months of lockdowns, travel restrictions, and social distancing measures. The question remains: how long will that renewed demand last?
As the number of COIVD-19 cases has flared anew, states have reinstated various restrictions and postponed further reopening efforts across a large part of the country. The risk is that the growing health risk and policy responses will reduce foot traffic in malls, deter shoppers from visiting stores, and lower occupancy at bars and restaurants, possibly hindering consumer spending in months to come.
Despite the spread of the virus, the economy continues to show signs of improvement, illustrated by better-than-expected data on employment, inflation, and activity in the services and manufacturing sectors. The continued reduction in unemployment and return of sidelined workers to their jobs should continue to support spending growth, although the effect may not be as significant as one might otherwise expect. The enhanced unemployment benefits from the federal government did provide an effective source of replacement income for many families and, in some cases, even increasing their weekly income prior to the end of that program. The ironic result for some consumers may be a reduction in income by returning to their jobs, which could create a near-term headwind in spending.
While there is still strong support in Washington, D.C., for extending benefits, the size of any package has become a major sticking point between the parties. It's not clear how much progress is being made as both sides dig in. Enhanced unemployment benefits helped to buoy consumer spending since March, providing a financial bridge for many impacted families and mitigating the impact of unprecedented job losses. With unemployment still quite high, an extension of some form of benefits should bolster consumer spending as labor conditions gradually return to normal.
Overall, the story remains largely the same — the economy remains in recovery, but the recent surge in COVID-19 cases muddies the near-term outlook a bit. The timeline to the economic recovery and a return to a more normal environment will likely be heavily influenced by developments on the public health front and the availability of a vaccine.