The manufacturing sector continued to dig itself out of its deep hole in July, lifted by a continued surge in new orders and production.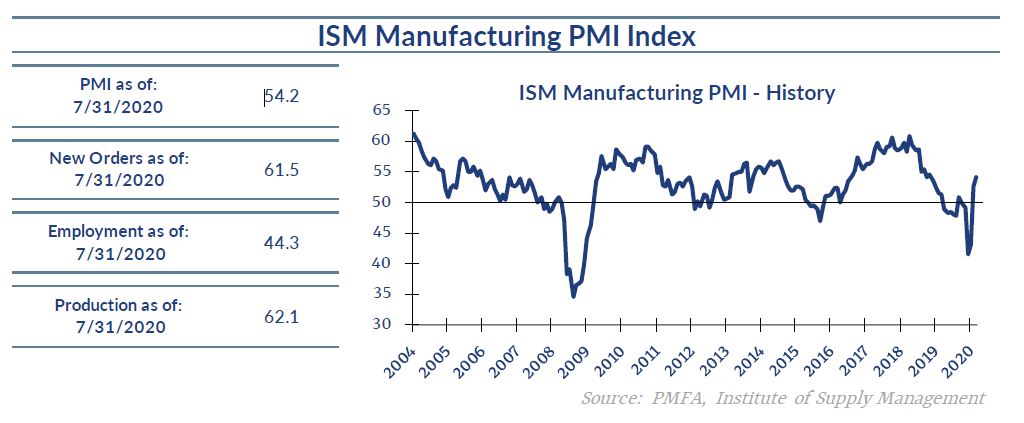 The ISM Manufacturing Index rose for the third consecutive month in July, increasing 1.6 points to 54.2, while modestly exceeding expectations for an increase to 53.6.
New order growth easily beat the consensus forecast (61.5 versus 55.1), indicative of an unexpectedly robust increase in demand that's consistent with other data in recent months that pointed to a sharp rebound in economic activity since May. Production was also much stronger than anticipated, coming in at a brisk 62.1 versus 57.3 in June.
The story isn't entirely rosy though, particularly on the hiring front, as manufacturers are still trimming payrolls, albeit at a less aggressive pace.
The increase in the index suggests that the nation's manufacturing sector continues to heal after grinding to a near standstill just a few months ago. After bottoming at 41.5 in April, the manufacturing index improved moderately in May before surging by more than 9% to 52.6 in June — its first expansionary reading in four months.
While that was positive news, the ongoing uncertainty around the virus and state of the economy still raises questions on the sustainability of the rebound in manufacturing. The strong July report provides further confirmation of improvement in recent months.
The surge in COVID-19 cases across much of the country in recent weeks leaves the manufacturing sector — and the economy more broadly — vulnerable to another round of shutdowns and restrictions. That risk has already been seen in the recent pickup in initial jobless claims as improvement in labor market conditions have stalled.
It was clear that the sharp bounce in payrolls and consumer spending wouldn't be sustained at such a brisk pace indefinitely. Even so, the fact that initial jobless claims are edging higher from a level that still easily exceeds pre-pandemic record numbers is a concerning development.
The bottom line is that the sharp rebound in the nation's manufacturing sector is consistent with that strong initial surge in the broad economy as health-related restrictions were scaled back. The worst may now be in the rearview mirror, but the recovery remains fragile and subject to potential setbacks as the risk posed by COVID-19 and the policies employed to combat that risk continue to evolve.
Media mentions:
Our experts were recently quoted on this topic in the following publications: