With more complete data and more time to refine it, the economic picture for the second quarter was still unambiguously bad, the silver lining of slightly "less terrible" notwithstanding.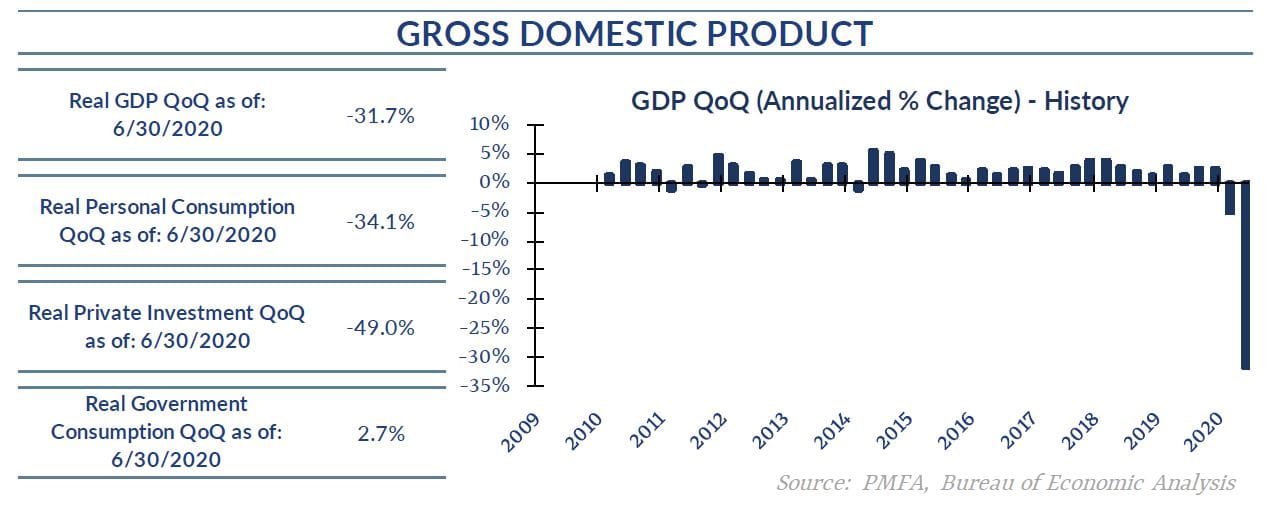 The second estimate of GDP confirmed the significant blow to the U.S. economy last quarter, which contracted at a 31.7% annualized pace, modestly better than the initial estimate of a drop of 32.9%.
Despite the minor improvement in the estimate, it remained by far, in modern history, the steepest quarterly decline in GDP figures, surpassing the -8.4% slide in the fourth quarter of 2008, in the heart of the global financial crisis. It also marks the second consecutive quarter of negative U.S. economic growth, following the 5.0% drop in the first three months of 2020.
As a technical matter, the data revealed that the steep decline in consumer spending wasn't as severe as initial estimates indicated; nonetheless, the rapid shutdown of much of the economy significantly impaired household spending to a degree that was previously unseen. Similarly, the drag from private inventories was less pronounced than believed initially.
The revision effectively reiterates that the economy was in horrible shape just a few short months ago, but slightly less horrible than first reported — a small consolation for those trying to find any positives in the data.
If there is good news, it's in the data not yet reported. This was easily the steepest and most rapid decline in the U.S. economy, but also now appears likely to be the shortest when the final data is tallied. A wide range of data on manufacturing and service sector activity, retail sales, and employment conditions point to an economy that's still staggering from the blow landed by COVID-19, but is at least up off the canvas.
Even so, the lingering effects from the COVID-19 crisis will ripple through the economy for some time. The recovery is already showing signs of slowing, and with a nationwide resurgence in the spread of the virus, the economy isn't going to be powering back up to full strength anytime soon. Forecasts still suggest that it will be a long slog to get back to pre-pandemic levels, likely dragging through much of 2021, if not into 2022.
Without a COVID-19 vaccine, both businesses and consumers will continue to feel the effects of reduced shopping and travel. The timing of a vaccine or other effective therapeutic solutions to treat the virus will be critical to restoring a greater sense of confidence. In the meantime, the economy appears to have experienced a sharp rebound in the current quarter, with the pace of improvement less clear as the recovery progresses.