While elections can create short-term volatility, investors have been well-served by staying invested regardless of who resides in the White House.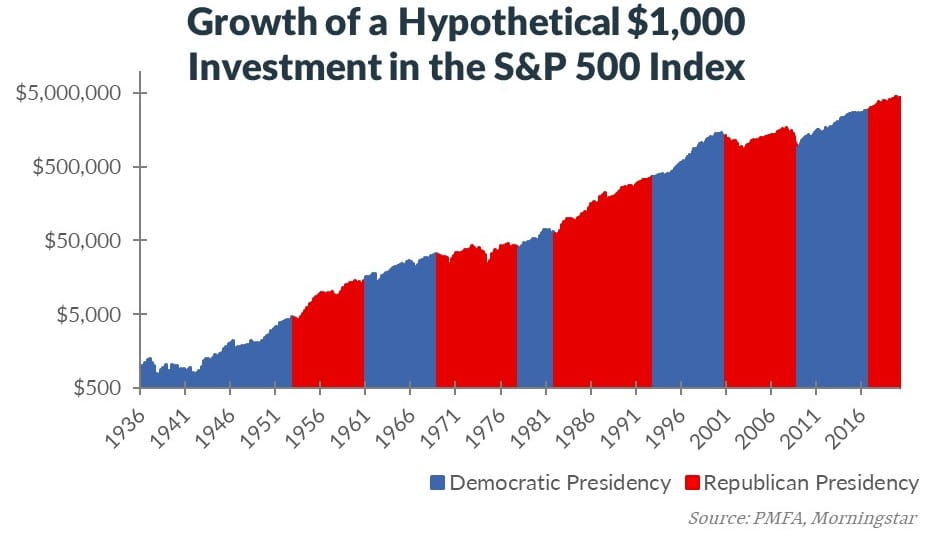 Presidential elections have always created an element of uncertainty for investors, and with November 3 less than 100 days away, this time is no different. The political polarization that's intensified in recent years, coupled with the ongoing COVID-19 pandemic and an economy still feeling the effects of the resulting recession, are contributing to a heightened sense of uncertainty as Election Day approaches.
While there is no question that uncertainty can create short-term volatility for equity markets, we also believe it's important for investors to keep a long-term perspective. As shown in the chart above, regardless who resides in the White House, the market has seen strong returns under both Democratic and Republican presidents. A $1,000 investment in the S&P 500 Index in 1936 would have been worth nearly $5 million today, but sitting on the sidelines when either party held power would have significantly limited that growth potential.
Of course, swings in the political climate and policy changes can affect the capital markets in the short term, but history tells us that their impact on long-term performance tends to be relatively insignificant, as corporate America has proven to be adept at navigating changes in the tax and regulatory environment over time. The bottom line is that while elections can sometimes generate angst for many, history suggests that investors would be wise to tune out the noise and stay invested.