August retail results illustrate that the economic recovery is slowing. Could it be lost supplemental unemployment benefits, slipping consumer confidence, or "hangover effects" from the prior buying binge? Whatever the cause, the trend is clear.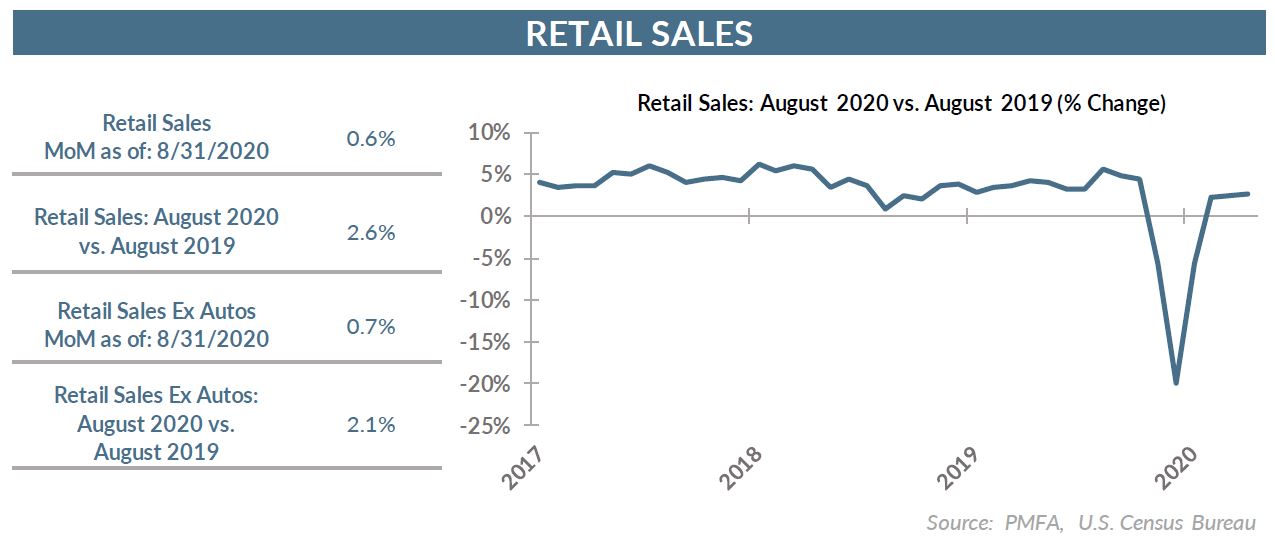 August retail sales confirmed two key observations about the state of the economy: it continues to recover from the deep hole created by the COVID-19 pandemic and the resulting policy and behavioral reactions, and the initial strong bounce back continues to lose momentum.
Retail sales rose in August, but by a comparatively tepid 0.6% — well below already tempered expectations for a 1.0% gain for the month. Core retail sales, excluding auto and gasoline sales, increased by 0.7%.
Some slowdown in spending growth was anticipated for the month, as July 31 marked the end of supplemental unemployment benefits that boosted income for many low-income households. With that additional cash flow drying up, economists had anticipated a noticeable effect on retail results. Without additional government support, retail sales could slow further in the coming months as households still affected by challenged labor market conditions tighten their belts.
The news wasn't all bad though. There were some relative bright spots in apparel, building materials, and furniture. Even with many students attending school remotely this fall, "back-to-school" shopping was likely a key contributor to clothing sales. Stronger sales for home improvement goods and furnishings may be a result of a desire to freshen up those spaces that are getting more use.
Noteworthy developments weren't limited to strength in a handful of areas. Grocery stores experienced an outright decline of 1.6%, offset by a 4.7% increase in restaurants and bars. At least at the margins, it suggests fatigue on the part of consumers that have been cooped up for months and a desire to begin to return to pre-pandemic dining habits.
Flat nonstore sales for August indicate that the surge in online spending is losing steam, perhaps as a result of consumers moving through the aggressive "stocking up" phase for nonperishable goods. Even so, nonstore retail sales rose in excess of 22% over the past 12 months, as online retailers were among the greatest beneficiaries of the rapidly changing consumer behaviors of the last six months.
The bottom line is that the August retail sales report affirms the picture painted by a host of recent economic data. The economy is still pulling itself out of a deep hole, but the energy that provided that initial step off the bottom is clearly fading.