Consumer inflation edged higher in August as the recovery in consumer spending and depleted inventories drove prices upward. Similar to the cyclical low point for GDP, it appears the bottom in the CPI was established earlier this year.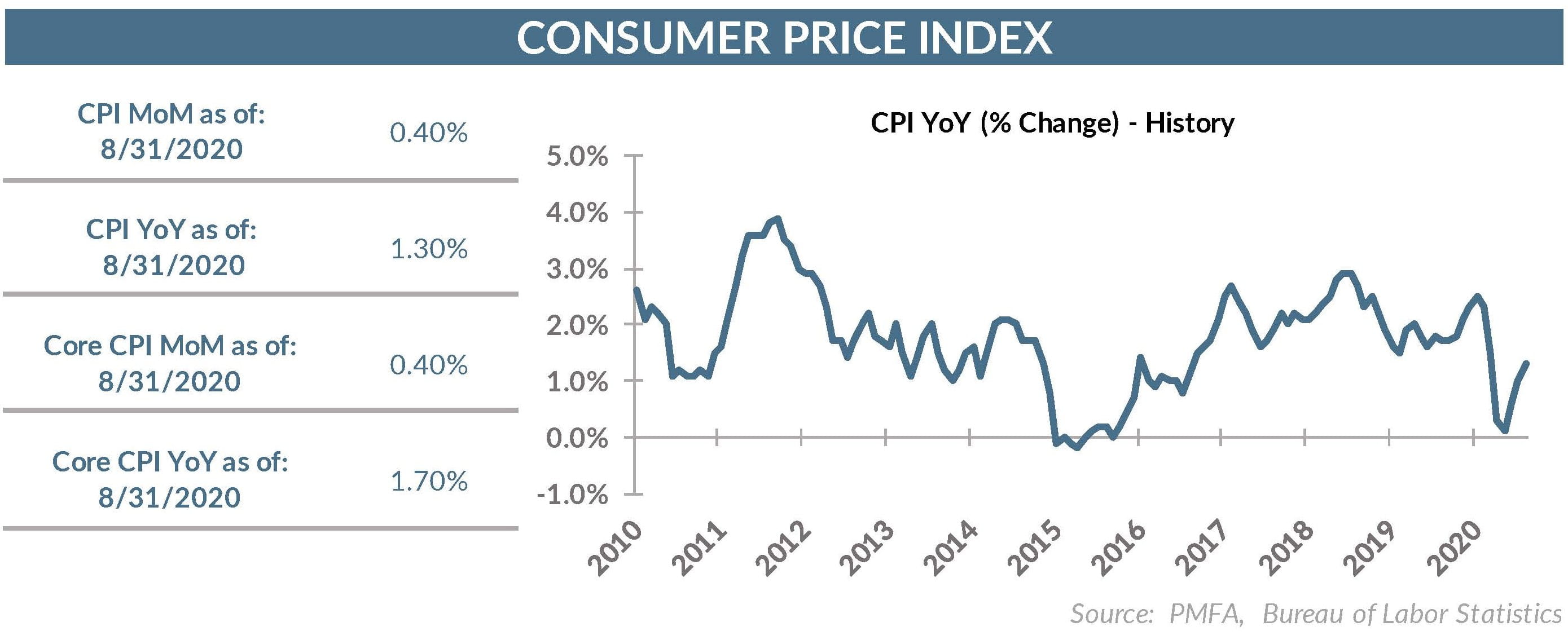 The consumer price index (CPI) rose by 0.4% in August, slightly above expectations for a 0.3% increase. Core CPI (excluding food and energy) also rose by 0.4%, as a very modest increase in food prices were offset by a 2% hike in gasoline prices.
Over the past year, the index rose 1.3%, having surged in the past three months after bottoming near zero in May. The collapse in energy costs last spring was a significant contributor to the rapid decline, but far from the only factor. Core inflation was cut in half from 2.4% to 1.2% in a three-month span but has edged back up to 1.7%. The speed of the downturn and subsequent recovery likely prevented a more outsized decline in the general price level for goods and services, as did the extensive fiscal stimulus that helped to fill the void created by job losses.
August marks the third consecutive month of rising consumer prices since the sharp decline seen earlier this year, as consumer spending plummeted in the face of the pandemic and resulting restrictions on general mobility and daily activity.
Of particular note for the month was an outsized 5.4% increase in used car prices, which have experienced a surge in demand in recent months. Recent data indicates that used car sales have increased by more than 20% year-over-year. Increased demand for used cars reflects several factors, among them buyers trading down to a less expensive alternative given the soft economy, increased demand from those previously dependent on mass transit, and a relative shortage of new cars due to the temporary shutdown in production earlier this year.
Inflation is likely to continue edging higher in the coming months as spending recovers, particularly in those areas where the supply of a particular good or service remains crimped. That shouldn't impact the outlook for the Fed's highly accommodative stance on interest rates, particularly given the central bank's recent indication of a willingness to let inflation run hot for some time to support economic growth.
The risk of sustained, broad-based inflationary pressures above trend still seems unlikely given the broad slack in the economy that's expected to persist well into 2021. If the Fed wasn't able to engineer inflation above 2%, even with the economy humming and unemployment at 3.5%, it's unlikely that prices will get out of hand with the economy operating below potential and the jobless rate still elevated.
Media mention:
Our experts were recently quoted on this topic in the following publication: