Piling into low-quality, higher-yielding bonds can diminish one of the primary benefits of a bond portfolio: offsetting equity volatility.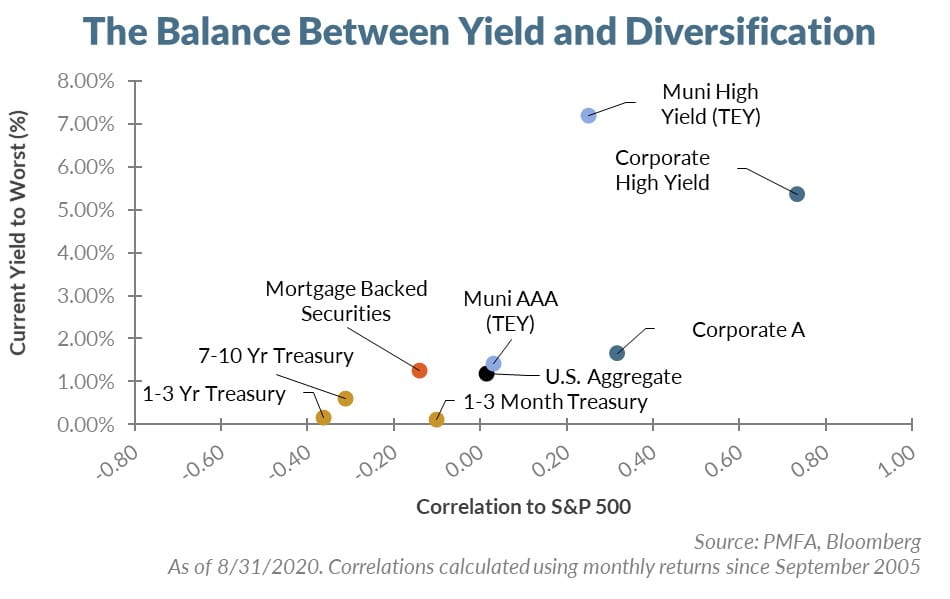 With yields near historic lows across much of the fixed income market and the relative opportunity presented by both corporate and municipal high-yield debt, investors may be tempted to reach for additional income by tilting away from quality. However, while we believe that there is a place for high-yield debt in a diversified bond portfolio, moving too aggressively into lower-quality bonds can have unintended consequences.
High-quality fixed income traditionally serves as a portfolio ballast, as an income generator, and as effective diversifier to equity risk. Generally, high-quality bonds have typically very low or even negative correlations to equities. When equity prices are falling, high-quality bonds such as U.S. Treasuries or agency mortgage-backed securities will typically not only hold their value, but appreciate, reducing portfolio volatility.
Conversely, high-yield bonds not only exhibit greater volatility (and exposure to credit risk) than U.S. treasuries, but they also tend to be much more highly correlated with stocks. The result is that high-yield bonds often tend to fall in price and rally in conjunction with stocks, reducing their effectiveness as a counterbalance to equity risk.
Ultimately, investors must strike a balance between those competing goals (equity diversification and income generation). A measured allocation to high-yield bonds can be a valuable return enhancer but can't replace the diversification benefits of core bonds.