The jobs market is clearly out of the ditch and still firmly on the road to recovery, but slowing. The news is still good.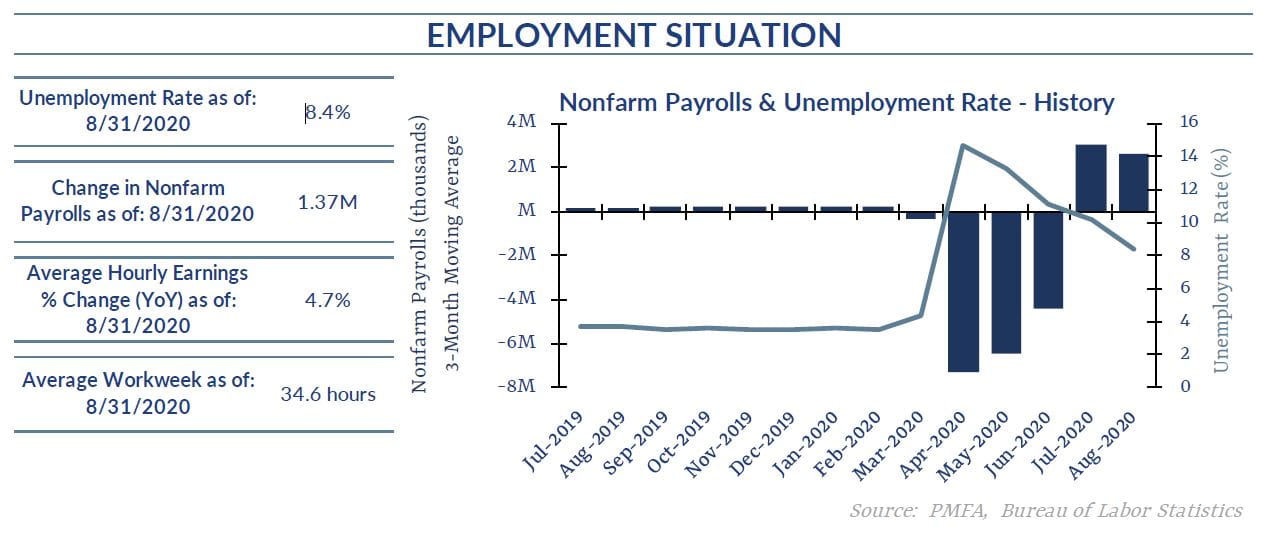 The pace of payroll growth has continued to slow, but 1.37 new jobs in August was sufficient to drive the jobless rate down to 8.4% — its lowest level since March, when the rapid onset of COVID-19-related shutdowns broadsided the U.S. economy. Revisions to the prior two months trimmed recent gains by 39,000, a very modest adjustment against the 6.5 million gain in June and July.
Economists were generally in the ballpark in terms of the payroll gain but hadn't expected the sharp decline in the jobless rate. The sizable improvement came despite a 0.3% increase in the labor force participation rate, as an estimated 968,000 Americans reentered the job market.
Moving past the record layoffs and furloughs earlier this year, the U.S. labor market continues to make progress on its path of recovery. Payroll growth has topped 10.6 million since May – a remarkable increase, but one that still was a long way to go to address the 22 million jobs lost in March and April.
Below the surface, however, the deceleration in the trend was more pronounced. Included in that August increase were 238,000 temporary census workers hired by the federal government. Those are expected to be largely eliminated in September. Assuming that trend growth continues to slow as well, the combined impact could set up the September jobs report to reveal a similarly distorted change in payrolls, but to the downside.
There is also the threat of additional payroll cuts already announced for later this fall. Among the noteworthy examples are airlines that tapped federal credit lifelines and were required to maintain their workforce. As those requirements expire, a wave of layoffs is expected by an industry that expects to feel the lingering effects on leisure and business travel for some time to come.
Of course, the overriding uncertainty that still hangs over the economy is the continued spread of COVID-19 and the race for a vaccine or effective preventive solution. The growing optimism around some form of medical treatment notwithstanding, a return to pre-pandemic economic conditions will take time. Beyond the near-term restrictions, the long-term impact of changes in the way that we work, shop, learn, travel, and entertain will impact the economy for years to come.
The damage caused by any recession tends to be rapid, while the healing process often takes years. The unprecedented speed and magnitude of this contraction is being followed by an exceptionally rapid restart, but one that isn't surprisingly already showing clear signs of slowing. That should be expected to continue. The trajectory of the recovery in the coming quarters will be heavily influenced by the success in the fight to contain COVID-19.
Media mentions:
Our experts were recently quoted on this topic in the following publications: