The recovery in the manufacturing sector gained momentum in August. Despite evidence that the pace of the broad economic recovery may be faltering, the outlook continues to improve for the nation's factories.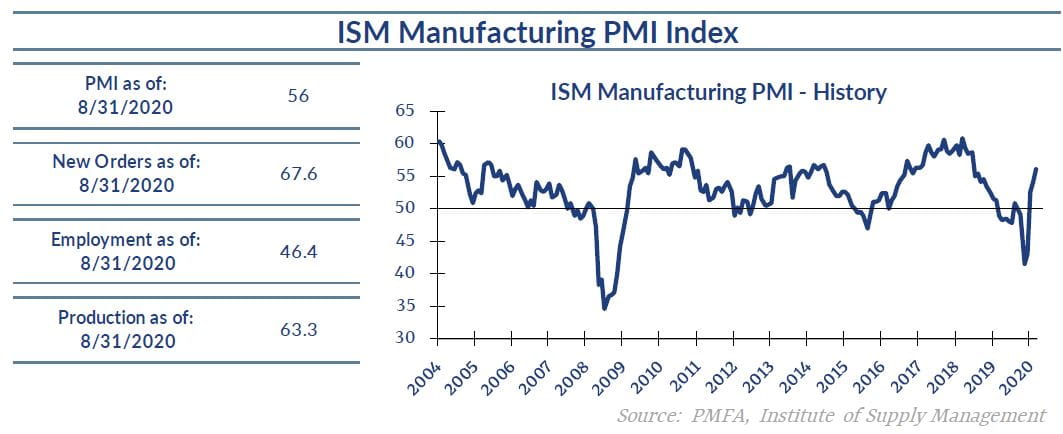 The ISM Manufacturing Index improved for the third consecutive month in August, rising 1.8 points to 56.0, beating expectations for a more moderate increase to 54.6. That marked the strongest monthly reading since November 2018.
The composition of the index was strong and well balanced overall, led by strong results on a few key indicators; new orders came in at a brisk 67.6 and production edged up to 63.3.
Other than employment, which contracted for the 13th consecutive month, most measures of the health of the manufacturing sector look relatively good. With new orders rapidly increasing and production not keeping pace, the backlog of work rose even as inventories are being depleted. Even so, the pace of contraction in payrolls has slowed, as that component rose from 44.3 to 46.4. All of this should bode well for manufacturers to expand payrolls in the coming months to increase production and meet demand.
The economy has clearly lost some momentum after a surprisingly strong initial bounce off of its April lows. Consumer sentiment has recently slipped as initial hopes of a sustained decline in the spread of COVID-19 faded in the past few months. Improvement in broad employment conditions have also faltered, as initial jobless claims have struggled to dip meaningfully below 1 million per week. While that is a vast improvement in a few short months, the pace of weekly claims is still staggering compared to prior recessionary periods.
Still, the pace of improvement in the manufacturing sector remains relatively robust in spite of the ongoing uncertainty. Prolonged slippage in consumer sentiment could weigh on household spending growth in the coming months, but for now, pent-up demand should be more than enough to push manufacturers to continue to rapidly ramp back up. That should bode well for factory hiring to accelerate, contributing to the ongoing turnaround in labor markets and the recovery.
Media mentions:
Our experts were recently quoted on this topic in the following publications: