Weekly jobless claims rose slightly to 870,000 but remain below 1 million for the fourth consecutive week.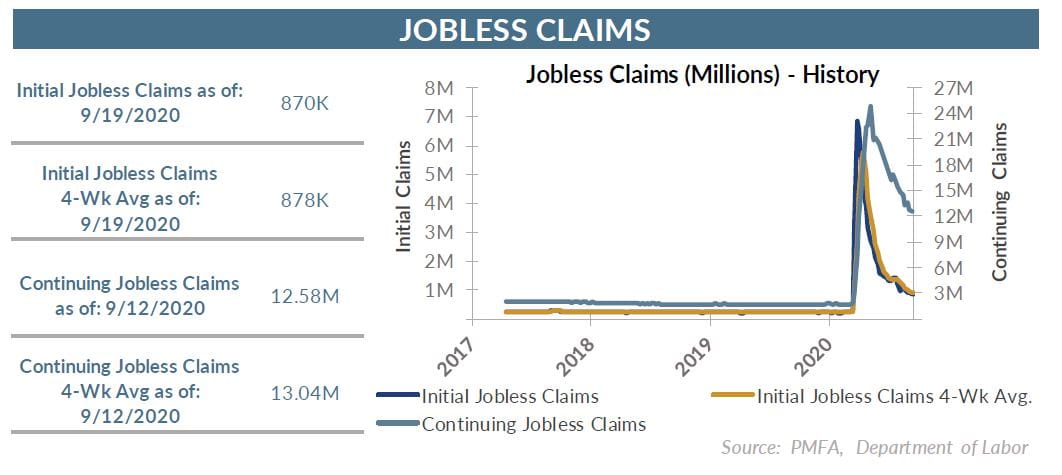 Jobless claims held relatively steady last week, rising to 870,000 from an upwardly revised 866,000 in the preceding week. Expectations had been for claims to decline to around 840,000.
The four-week moving average fell to 878,250 from 913,500 for the weekend ended September 12. In the past two reports, the average has declined by nearly 100,000. Notably, the four-week average, which smooths out the volatility in the weekly claims data, declined for the eighth consecutive week. Although still quite elevated, initial claims have now remained below 1 million for four consecutive weeks.
Of particular note was a sizable decline of nearly 3 million individuals claiming benefits under the Pandemic Unemployment Assistance program. That expansion of benefits was created to support self-employed individuals and gig workers that would have otherwise not been covered by traditional unemployment program. Increasingly, the numbers don't add up, as discrepancies between federal and state numbers show considerable differences and evidence of material fraud in the system. The sharp decline in those numbers likely reflects efforts directed at rooting out those fraudulent claims and cleaning up the data collection process. If that is the case, it's likely that the recovery in the labor market has been more significant than the claims data would indicate.
That's not to suggest that labor market conditions are back to pre-pandemic normal — they aren't. It also doesn't indicate that there isn't additional work to be done or support needed for individuals that remain sidelined by a recuperating economy. It does suggest that the claims data should be taken with a grain of salt, acknowledging that they're directionally representative of improving conditions, but of questionable accuracy.
Other indicators of the state of the labor economy appear more positive; the unemployment rate continues to recede as payroll employment rises. Job openings have rebounded; the most recently reported numbers for July indicated that openings increased to 6.6 million after bottoming out below 5.0 million in April.
The bottom line? The economic recovery, albeit slowing, should continue to support job creation and a gradual return to full employment. Progress has slowed, but some questions around the accuracy of some of the jobless claims data blurs the picture. As state and federal governments work to reconcile the data and clamp down on fraud, a clearer picture should emerge.
Media mention:
Our experts were recently quoted on this topic in the following publication: