While jobs rebounded sharply from April's lows, the labor market still has a long road ahead for employment to return to pre-pandemic levels.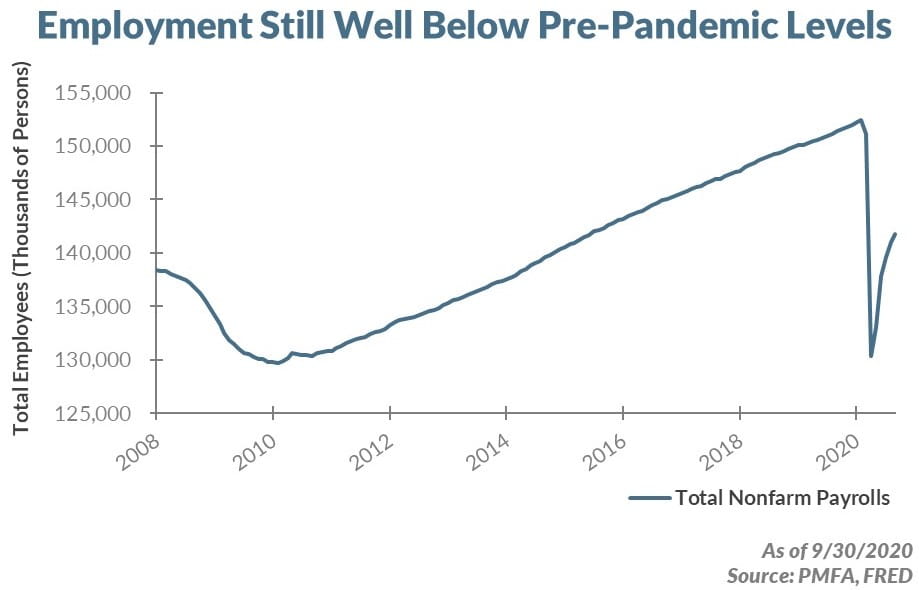 The economic fallout resulting from the pandemic has been far-reaching, with effects that have impacted nearly everyone. Among the more significant economic effects for "main street" America was the impact on the jobs market, as millions of Americans found themselves out of work due to widespread layoffs.
As shown in the chart above, the labor market plummeted in April, shedding over 20 million jobs and bringing the unemployment rate to nearly 15%. Since then, the economy has experienced a rapid rebound, exceeding most expectations. Over the past five months, the economy added more than 11 million new jobs as restrictions began to lift across the country and employers were able to put people back to work, pushing the jobless rate below 8%. Although that number is distorted by a reduction in labor force participation, conditions have still markedly improved since bottoming in April.
However, as the chart also illustrates, the economy has a long way to go before the labor market returns to pre-pandemic conditions. In spite of record-breaking job creation over the past few months, only about half of the roughly 22 million jobs lost earlier this year have been recovered. In addition, the pace of job creation has slowed considerably since peaking in June, consistent with the broad slowdown in the pace of the recovery.
Ultimately, much more progress will be needed for aggregate employment to return to pre-pandemic levels. As Election Day quickly approaches, voters' opinions of the current state of the jobs market as a proxy for the economy will undoubtedly weigh into their decisions on November 3.