While mega-cap tech stocks still should hold a place in a well-diversified portfolio, other areas of the market are becoming more attractive.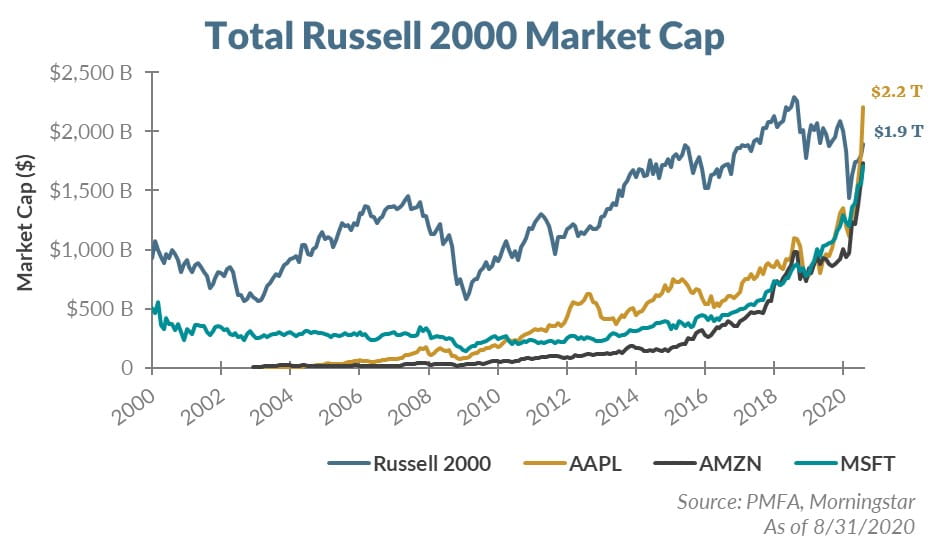 Concentration in the U.S. stock market has grown parabolically in recent years as a handful of mega-cap technology-oriented names have led the market to all-time highs. The five largest U.S. stocks, also often referred to as FAAMG — Facebook, Apple, Amazon, Microsoft, and Google (Alphabet) — now account for nearly 25% of the S&P 500's market value. As illustrated in the chart above, the market capitalization of Apple alone reached roughly $2.2 trillion in August, remarkably surpassing the value of the entire U.S. small-cap stock market (Russell 2000) for the first time. Amazon and Microsoft weren't far behind. Although Apple has since pulled back somewhat, the dynamic hasn't changed.
Does this rally in technology names indicate that a bubble is forming today? As we have discussed previously, evidence of froth in large-cap growth stocks is apparent, and valuations of the largest companies are by no means cheap. Still, they remain below levels seen during the technology bubble of the late 1990s. However, as we discuss in our accompanying piece, the narrowing breadth and outsized performance impact of the top few companies on the market-cap-weighted S&P 500 index merit consideration.
Bottom line? We believe that tech stocks still hold a place in a well-diversified portfolio, but they should be sized appropriately. Other areas of the market, such as small-cap value, appear more attractively valued today, though they may require patience and a change in market leadership to realize their potential.