Historically, higher concentration in the top ten names in the S&P 500 has coincided with periods of heightened volatility.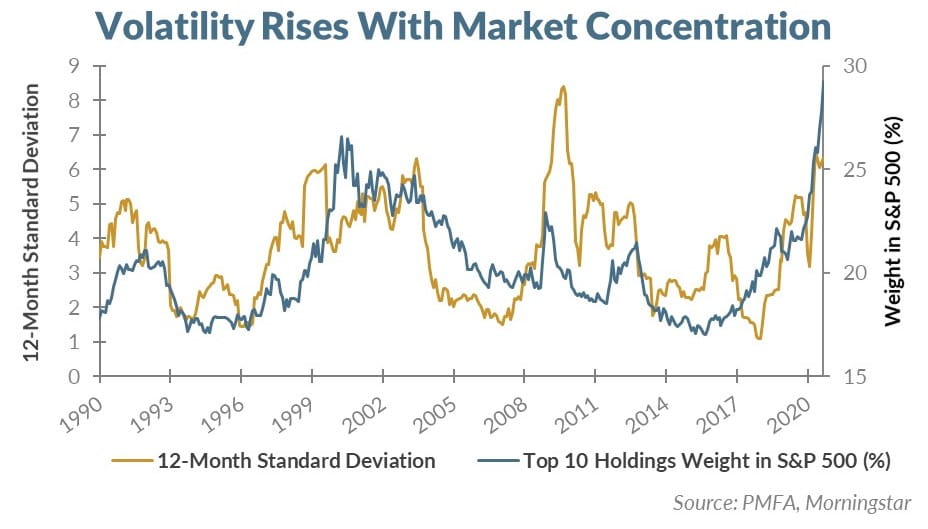 Mega-cap technology names have driven much of the market's rebound since March 23, boosting their already-sizable relative weightings versus the rest of the market. As a result, popular market-cap-weighted indexes, such as the S&P 500, have become even more highly concentrated in a few large names. While higher market concentration levels alone are not necessarily cause for alarm, history does give us some indication — and a potential warning — of what to expect during these periods.
As shown in the chart above, periods of greater market concentration have typically been associated with higher volatility. Looking back to periods such as the early 1990s and 2000s, market volatility (as measured by 12-month standard deviation) has typically risen as the largest stocks increasingly dominate the index. Intuitively, this makes sense, as any price fluctuations in those names will have an increasingly disproportionate impact (either positively or negatively) on the performance of the overall index as they become a greater part of the overall stock market or a related index.
Today, the top ten stocks in the S&P 500 account for nearly 30% of the index — a record in recent decades. If history is a guide, investors should be prepared for greater market volatility driven by those largest names. Certainly, those stocks could continue to climb for some period, but it's impossible to put a timetable on any reversal. That said, investors should be aware that the market's narrowing leadership may result in a bumpier ride at some point, when those stocks fall out of favor.