The CARES Act helped to offset lost income after more than 22 million job losses, but with those benefits fading, is more on the way?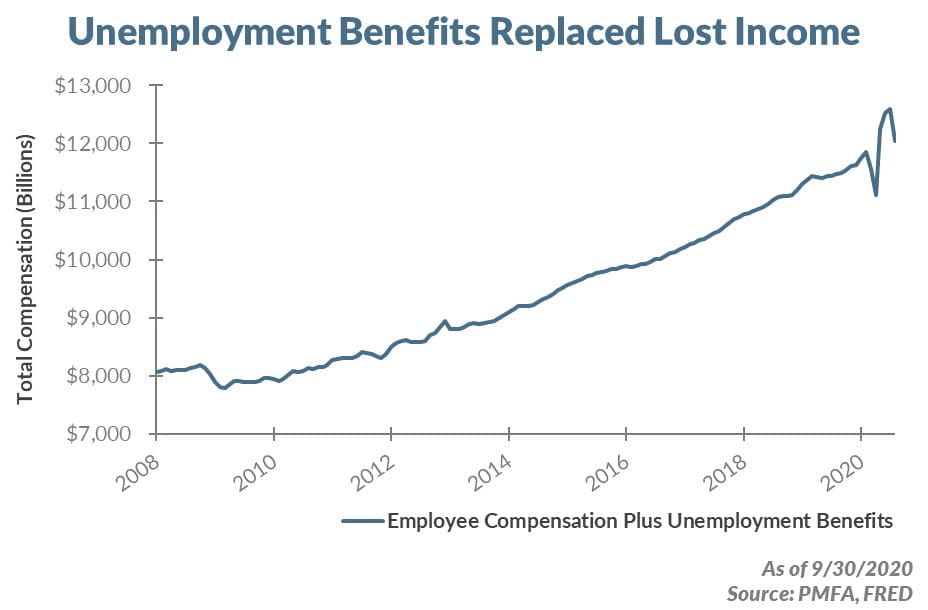 Broadly speaking, consumers were in relatively good shape heading into 2020. Household balance sheets were the strongest they'd been in over 40 years, with low debt-service ratios and high savings rates. However, following massive job losses stemming from the lockdowns that hit the economy hard, household incomes were abruptly impacted.
In response, Washington policymakers were quick to act. The CARES Act, which was passed in late March, included over $260 billion in increased unemployment benefits, including an additional $600/week in Federal Pandemic Unemployment Compensated benefits. As the chart illustrates, these policy efforts at a macro level more than offset the loss of income from furloughed workers. Yet, as the supplemental benefits have expired, broad compensation have begun to revert back toward the long-term trend.
There's no question that the rapid, sizable fiscal intervention helped to bridge the gap and minimize the potential economic fallout that could have occurred as a result of the pandemic-induced recession. The question is, what's next? With November 3 rapidly approaching, the need for an additional fiscal package still exists, but the political will is waning and the window of time is closing to pass such a measure before the election. Another substantial fiscal package is still widely expected and likely needed to keep the recovery on track. It's not likely to be a matter of "if", but "when" (more than likely next year) and "how much."