Fiscal stimulus played a significant role in the economic rebound earlier this year. Passing a new relief bill quickly will be critical to keeping that going.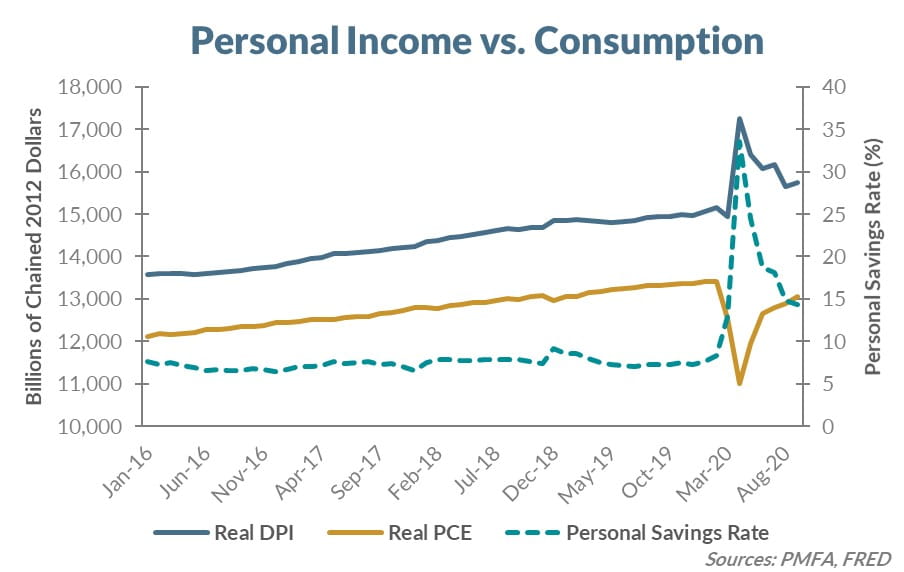 In response to the sharp decline in the U.S. economy last spring, Congress took aggressive action to support businesses and households who experienced a loss of income. The CARES Act, which policymakers passed in late March, included $1,200 stimulus checks for most American taxpayers, as well as an additional $600 weekly unemployment benefit for sidelined workers. This additional relief put cash into the hands of consumers, helping to sustain consumer spending and lift the economy.
As shown in the chart above, disposable personal income (DPI) and personal consumption expenditures (PCE) spiked following the government stimulus distributed in the spring and summer enacted through multiple unemployment programs, giving the economy a significant boost. This income replacement provided fuel for households that had slashed spending, resulting in a sharp increase in the personal savings rate before consumption bounced back sharply in the subsequent months.
Though two pandemic-related unemployment programs are set to expire December 31, money from those stimulus checks has likely been largely depleted and the $600 weekly supplemental unemployment benefits previously expired July 31. Consumer spending has held up in part because of the strong job gains since May, but payroll growth has slowed considerably in the past few months, with millions of workers still sidelined. Without additional government support, a near-term drop in spending is a growing risk, particularly with the layoffs now increasing as COVID-19 risk surges.
The bottom line? Consumer spending growth is a critical cog in the U.S. economic machine, and one that is at risk of slowing further. Additional fiscal support can't reduce the health risk presented by COVID-19, but it would mitigate the risk to the recovery.