The nation's factories were humming in October, as soaring new orders lifted production and hiring.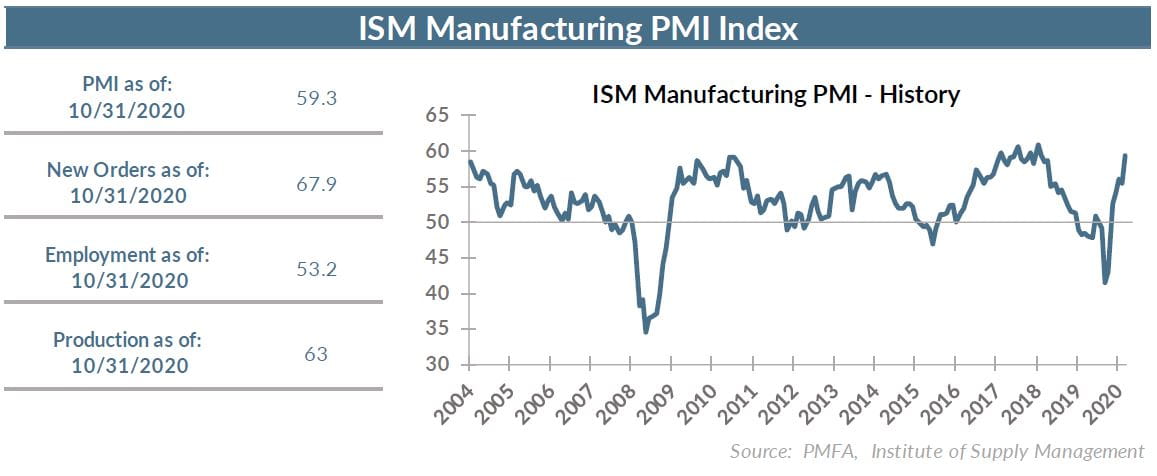 The ISM Manufacturing Index rose to 59.3 in October, far exceeding expectations for an increase to 55.6. The 3.9-point pickup was the second-largest monthly gain since May 2009.
The sources of strength were broad-based, but the sharp increase in new orders was a critically important and unambiguously positive source of strength. The New Orders index rose to 67.9 from 60.2 in September, indicating that not only are new orders expanding, but are still gaining momentum.
Improved demand lifted production again in October, and increased activity finally boosted employment after an extended period of manufacturers trimming payrolls. The Employment Index rose to 53.2 — its first expansionary month since July 2019.
Manufacturers of virtually every stripe saw improvement, with broad-based gains in new orders in 16 of the 18 industries measured.
While the service sector was hit unusually hard by the COVID-19 pandemic, the manufacturing sector remains a key cyclical indicator of the strength of the overall U.S. economy. The ISM survey has now been in expansionary territory for five consecutive months and appears to still be cycling up.
The report on manufacturing represents the last key economic data point to be released in advance of tomorrow's election. In a different year, a positive eleventh-hour report on the state of the economy would be beneficial to an incumbent president seeking reelection, but with a vast number of Americans having already cast their ballot, its impact is likely to be limited in terms of the election outcome. It's good news for equity markets, particularly for cyclical sectors that have lagged technology names in recent months.
Coming on the heels of a record-setting GDP report for the third quarter, any evidence of continued strength should help to alleviate concerns over the slowdown in the pace of the recovery. Slower growth is to be expected following that initial burst off the bottom, which happens in every cycle. With monetary policy still exceptionally accommodative and expectations for additional fiscal support in the coming months, any indication that the economy remains on a positive growth path is good news. A strong report on manufacturing certainly fits the bill.
Of course, the primary risk to the economy is the resurgent risk presented by COVID-19. The recently announced lockdowns in Europe are a stark reminder that the global economy isn't out of the woods for the near future.
Even so, the economy remains solidly on a growth trajectory but remains vulnerable should a surge in the spread of COVID-19 necessitates more aggressive steps to slow its spread. That risk would be exacerbated should policymakers fail to reach a deal on fiscal stimulus to support the 11 million workers that remain sidelined.
As of now, that appears unlikely, and expectations for the recovery to continue remain intact.
Media mention:
Our experts were recently quoted on this topic in the following publication: