November's 0.2% inflation increase narrowly exceeded expectations, although the recent surge in COVID-19 cases could impact prices in the near-term. The expected availability of multiple vaccines in the coming months provide a light at the end of the tunnel.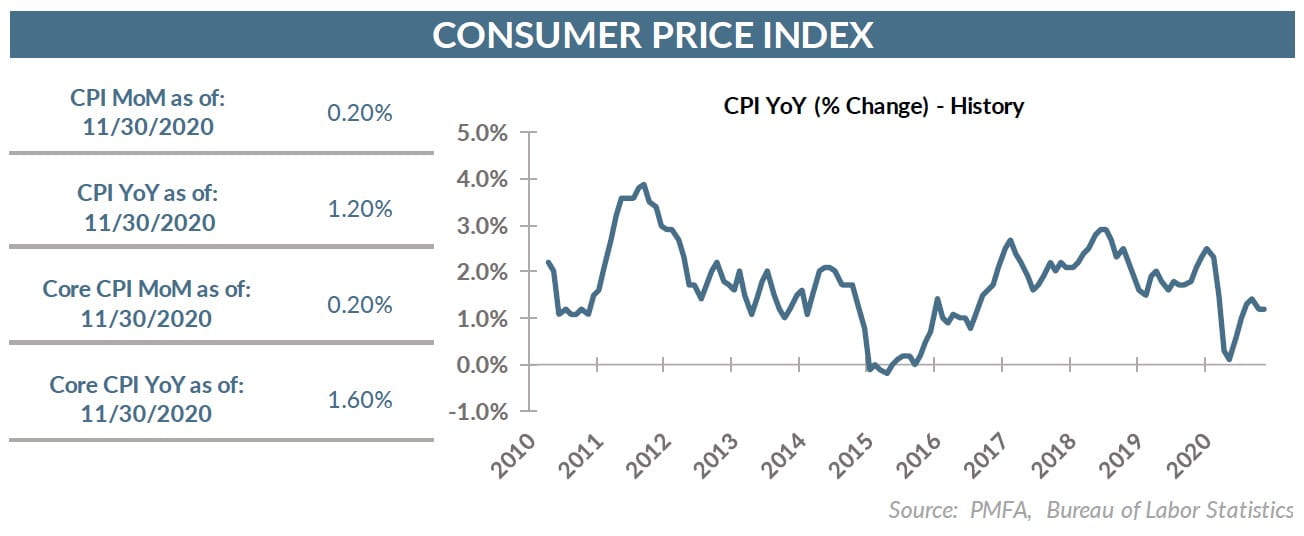 The consumer price index (CPI) increased by 0.2% in November from the month prior — a moderate increase that modestly exceeded consensus forecasts. Excluding the usually more volatile food and energy prices, core CPI edged up by 0.1%. Over the past 12 months, headline consumer prices increased by 1.2%, with the core index rising by 1.6%.
The lingering effect of the steep but brief recession earlier this year is still apparent in a wide range of economic data, including inflation gauges. Despite the outsized pickup in activity in the third quarter, unemployment remains elevated and total economic output remains meaningfully below its pre-recession peak. That slack in the economy alone represents a meaningful headwind to higher prices.
The recent nationwide surge in COVID-19 cases will also play a significant role in the path forward for prices, as governmental entities impose additional restrictions on movement and activities to curtail the spread of the virus. Additionally, many individuals will further adjust their daily behaviors regardless of government mandates. The result is that consumer demand will remain dampened, particularly for those activities that require travel or public exposure such as dining out and many forms of entertainment, keeping prices in check for many goods and services of a discretionary nature.
There are signs that the resurgent COVID-19 risk is having a tangible effect on the economy. Initial jobless claims rose considerably in the past week, from 716,000 to 853,000, also lifting the four-week moving average by over 35,000 to 776,000 for the week ended December 5. Job creation has also meaningfully slowed in recent months — a clear indication that the strong growth momentum that was readily apparent just a few months ago has stalled.
Against that backdrop, inflation should remain contained over the near term, although some limited pockets of higher prices could emerge if further restrictions on various activities crimp production or disrupt supply chains. Even so, an economy that's operating notably below its potential and the growing possibility that unemployment could tick higher in the near term don't represent a fertile field for inflationary pressures to take root.
On a brighter note, the expected availability of multiple COVID-19 vaccines in the coming months should provide a light at the end of the tunnel, although questions remain about its timing and availability, as well as its long-term efficacy. Regardless, it should boost confidence and act as a catalyst for the economy to find its footing. How soon the economy can return to its pre-pandemic trend remains to be seen. In the interim, broad-based inflation measures are likely to stay contained.