Weaker-than-anticipated retail sales combined with broad economic data point toward an economic slowdown. Any continued downturn should be brief as the outlook for additional fiscal stimulus and availability of a COVID-19 vaccine increases.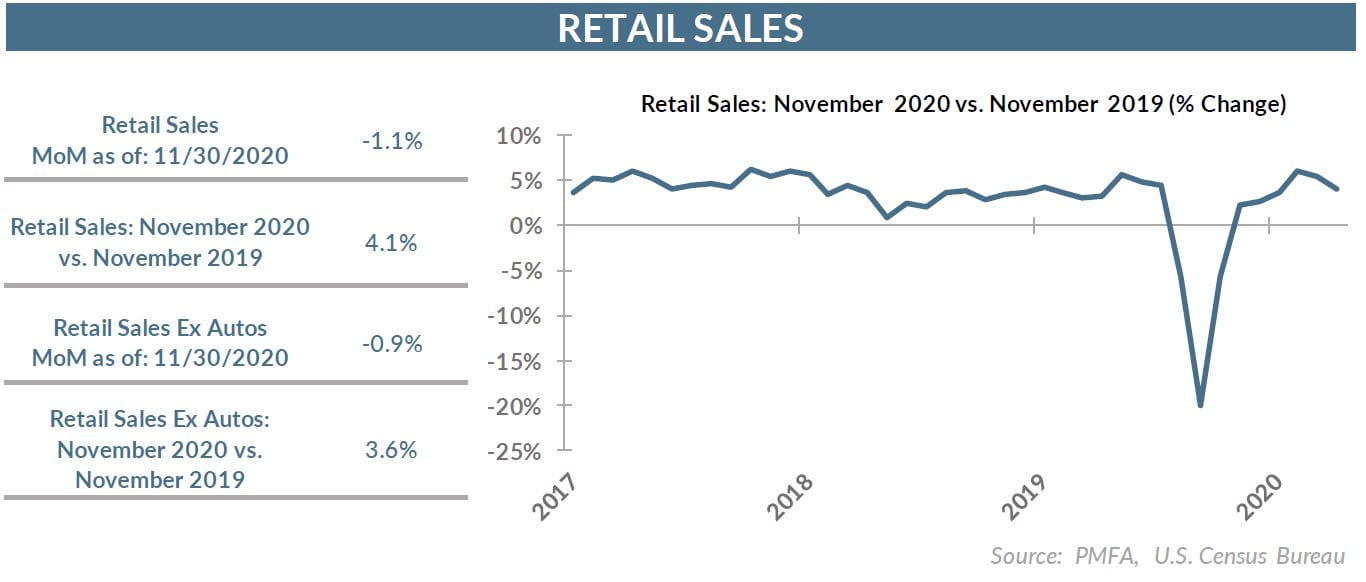 Retail sales fell by 1.1% in November — a result that was much weaker than expectations of a more moderate 0.3% dip. Core retail sales, excluding auto and gasoline sales, also fell by 0.8% for the month. Revisions to October sales tallies were also reduced from a slight increase to a fractional decline.
Economists had expected a decline in retail sales for the month as the surge in COVID-19 cases led to the reintroduction of various restrictions across much of the country and many Americans adopted a more cautious stance on public interactions. That should be expected to continue, as increased restrictions will undoubtedly have an adverse impact on consumer spending for restaurants and stores forced to operate at limited capacity.
Weaker sales crossed over most retail sectors, although grocery stores saw a 1.9% surge. That gain came in part at the expense of restaurants, which saw a 4.0% drop in sales from the prior month. Obviously, people still need to eat but are choosing to increasingly do so at home.
Notably, the nonstore retail sector, which is dominated by online retailers, has been the greatest beneficiary of changing spending habits with sales up nearly 30% in the past year. Nonstore retail sales increased in November, but by a meager 0.2% — certainly indicative of the degree of weakness in retail activity for the month.
More broadly, indications of an economic slowdown have been growing. The recent meaningful uptick in initial jobless claims points to weaker employment conditions, and the sharp slowdown in job creation in recent months is expected to continue. The risk of an outright decline in nonfarm payrolls in December has increased significantly.
The near-term outlook for the economy has darkened, and there's been a growing chorus of those warning against another dip into negative growth territory, but there's still reason to be relatively optimistic looking past the next few months.
There's still a very bright light at the end of this dark tunnel as the first shipments of COVID-19 vaccines have been distributed and are being administered, with more on the way. There's no question that the health risk posed by COVID-19 is the catalyst for the economic slowdown, and the availability of a vaccine to address that risk in the coming months should be a powerful catalyst to lift consumer and business confidence. Given the experience of much of the past year, there's a significant degree of pent-up consumer demand that could be unleashed when the picture brightens and confidence surges.
In the interim, fiscal support for sidelined workers will be critical to the growing number of households that are expected to be impacted as business conditions slacken and layoffs increase.
Policymakers in Washington, D.C. are now scrambling to agree on an additional COVID-19 relief package. Congress will need to act quickly as several existing federal programs, including unemployment benefits, are set to expire December 31. Without additional government support, consumer spending could be hindered in the months ahead, particularly with the layoffs now increasing as COVID-19 risk surges. It appears that progress toward a solution has accelerated and hopes have been renewed for a viable bipartisan deal to be achieved before Congress adjourns for the holidays.
The bottom line is that most recent data points to an economy that has slowed markedly over the last few months. It's likely that we'll see continued weakness in the near term, but any downturn should still be relatively brief given the outlook for additional fiscal stimulus and the availability of a vaccine that could be the answer to the primary near-term risk to the economy.
Media mention:
Our experts were recently quoted on this topic in the following publication: