Strong new orders and production growth paint a positive outlook for the nation's factories last month, but a contraction in the employment index is a warning shot across the bow.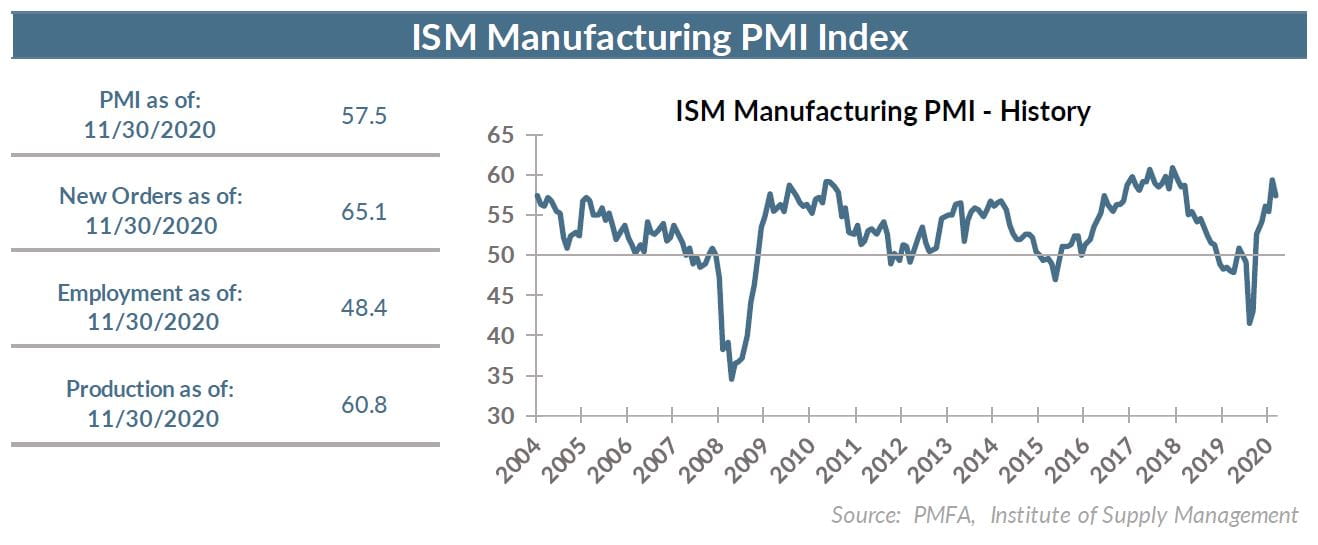 The ISM Manufacturing Index dipped in November, falling to 57.5, modestly below expectations for a reading of 58.0. Although the result was a modest disappointment, it signaled that the manufacturing economy remains solidly in expansionary territory for the sixth consecutive month after being hammered by the brief COVID-19-induced recession last spring.
Manufacturers benefited from brisk new order growth last month, which also helped to sustain a continued pickup in production. Demand has been supported by the resurgent U.S. economy and low inventories. The near-term outlook also looks positive as the backlog of open orders increased at a slightly faster pace.
While conditions remain solidly expansionary, there was a stark warning in the employment component, which indicated that at least at the margins, more employers were trimming payrolls than adding to them last month. That was somewhat disheartening given that the hiring component of the index just turned positive in October. Still, about two-thirds of survey respondents held payrolls steady and another 15% added to their workforce, so cuts were far from universal.
It's quite likely that the recent surge in COVID-19 cases across the country and resulting regional closures played a meaningful role for those employers that trimmed payrolls. The broader slowdown in the pace of the economy has been apparent in a range of employment gauges in recent months, weighing on the pace of payroll growth and slowing progress in the gradual decline in jobless claims.
To a degree, that's to be expected as the economy shifts into a lower gear after its initial post-recession liftoff. Still, that slowdown increasingly looks like it will be exacerbated by the new COVID-19 wave and policies instituted to reduce the risk of spread.
The near-term economic outlook has become more clouded, with three primary catalysts likely determining the contour of the path forward: the risk presented by the virus and related health policy, the race for a vaccine, and the scope and timing of additional fiscal stimulus.
In the near term, it's quite possible that growth will continue to slow as closures and restrictions across the country are introduced or extended. Even so, there's also growing reason to believe that the timely availability of an effective vaccine represents a very bright light at the end of the current dark tunnel. A substantive fiscal package could provide an important bridge for an economy that is attempting to grind forward against the COVID-19 headwind. Whether policymakers in Washington D.C. will be able to reach a deal in the lame-duck session remains in doubt, potentially leaving the matter in limbo until after the inauguration.
Media mention:
Our experts were recently quoted on this topic in the following publication: